What to do in Lanzarote
Everything that you can see and do in Lanzarote is in reach. Thanks to the island's dimensions and the various Lanzarote excursions that we offer, you will be able to discover all of its charms during your holiday. Keep reading and we'll show you all the sites that you will see and the experiences you will enjoy during your holiday.
Main attractions
Let's begin by giving you some ideas about stuff you can do in Lanzarote that make it an exciting island.
1.- Camel ride 
The volcanic origin of the island can be seen in almost all its corners, but its wildest and most spectacular aspect can be enjoyed during a visit to Timanfaya National Park and the area known as the Mountains of Fire. The ideal complement to this visit is to feel like an authentic explorer in inhospitable territory by going on a camel ride through Timanfaya. This activity is ideal for people of all ages.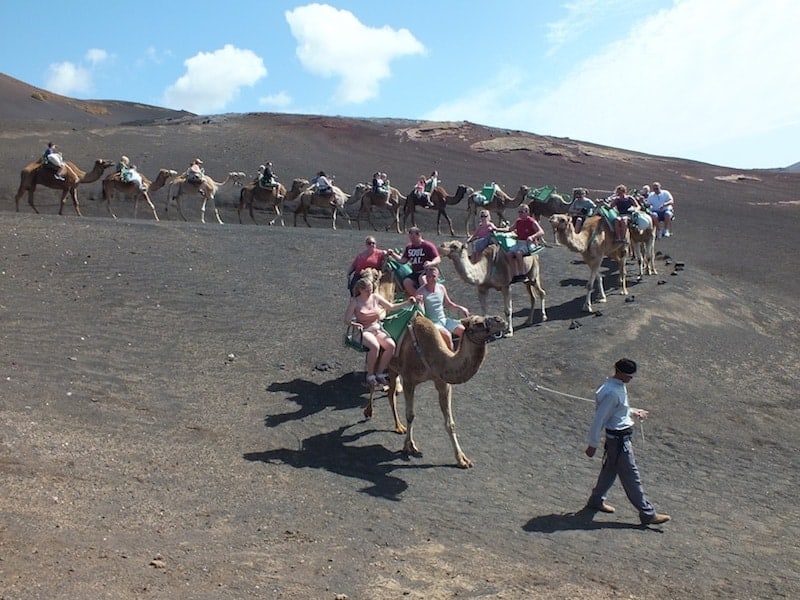 The tour lasts for about 25 minutes and is priced at around 6 euros per person. The caravans leave every 15 minutes and the maximum weight you can ride with is 110 kilos. As there are two people on each camel, the staff will give more weight to the person who weighs less so the camel is well balanced and doesn't wobble too much.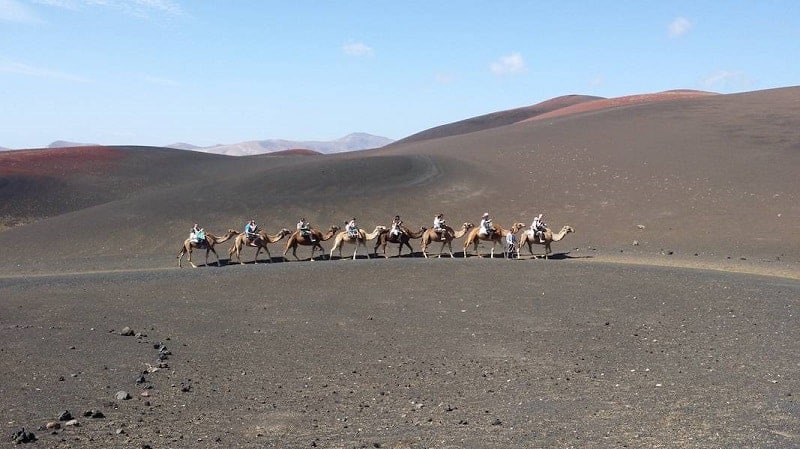 2.- Navigate around Lanzarote
Another star activity to do during your holiday is to go on the Lanzarote boat trips along the coast or to visit the nearby islands of La Graciosa, Isla de Los Lobos or Fuerteventura. And regardless of where you go in the different types of boats that make these tours, you will certainly enjoy great views, and even catch sight of playful dolphins.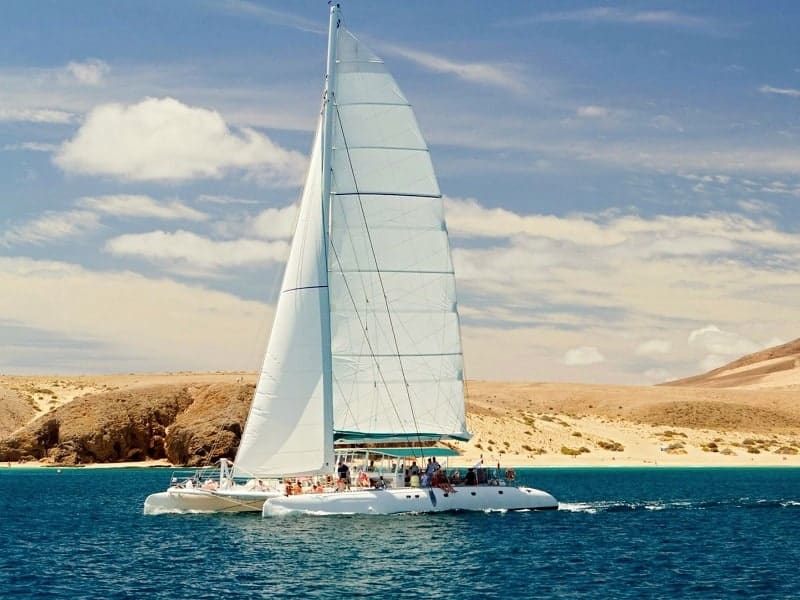 3.- Go on a Jeep excursion
Jeep tours allow you to enjoy an adventure and go to places where no other type of vehicle can travel. Going to Papagayos Beach, Famara Beach or passing through the Cuervo Volcano can only be done with these types of all-terrain vehicles.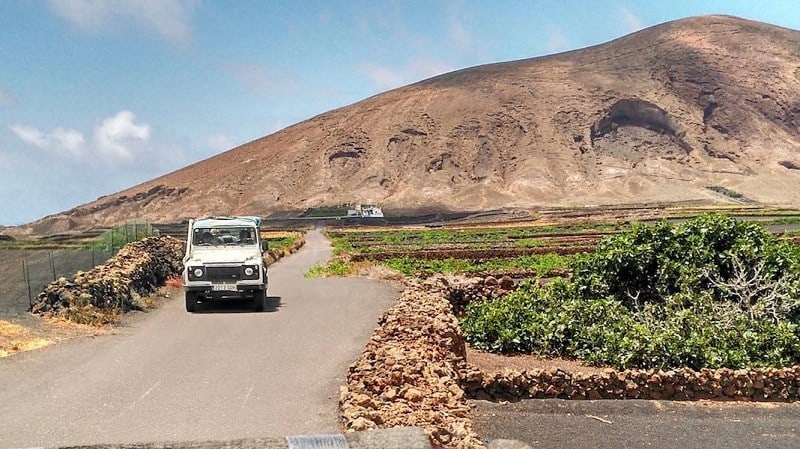 For each route, these 4x4s, which can hold 6 people plus the driver, will take you on dirt and asphalt roads to the most important points of interest.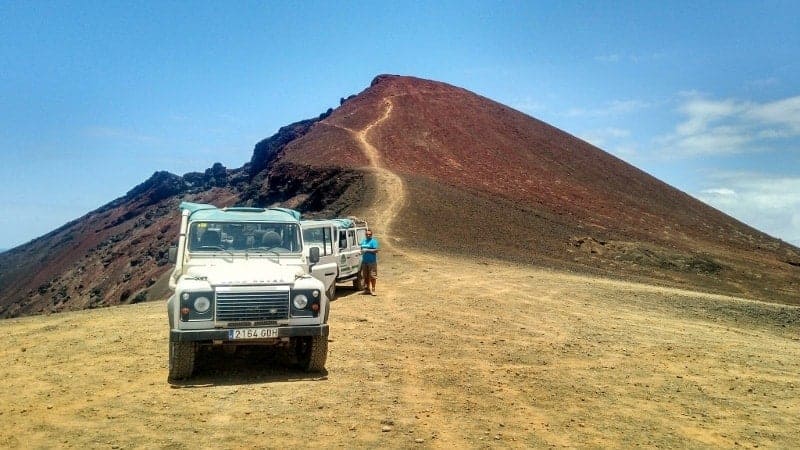 Depending on the weather conditions, the jeeps will either have the top on, if it's very cold or if it's raining, or have the top down so you can enjoy the scenery and the sun. Follow the indications and recommendations proposed in the tour information to enjoy the experience to the fullest.
4.- Sample local cuisine
You'll need to satisfy your stomach in the island. And for that, there's nothing better than savouring the most typical dishes of Lanzarote's cuisine. The island's culinary traditions include potatoes with plenty of gravy, gofio, goat meat or the most popular fish stew: the sancocho. And of course, you have to accompany everything with a good wine with the Denomination of Origin Lanzarote.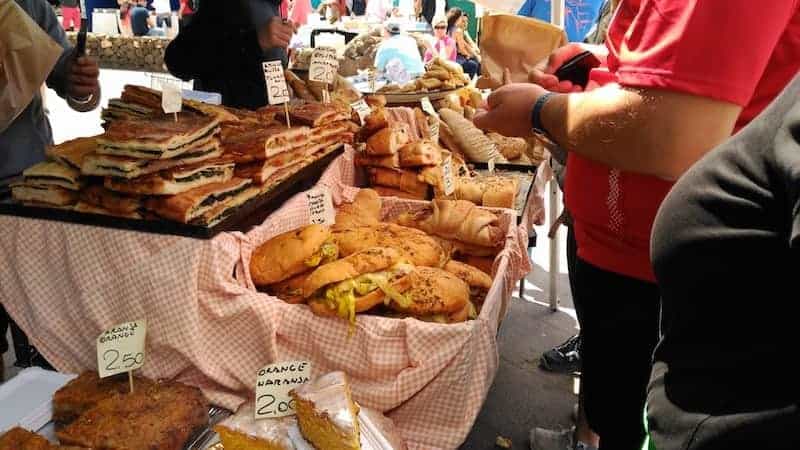 5.- Go shopping in the Teguise Market
You can also try all of those delicacies in the different restaurants during our visit to the Teguise Market, where you can also go shopping and get to know the island's folklore. This is the ideal plan for any Sunday morning of the year, which is when the market is open.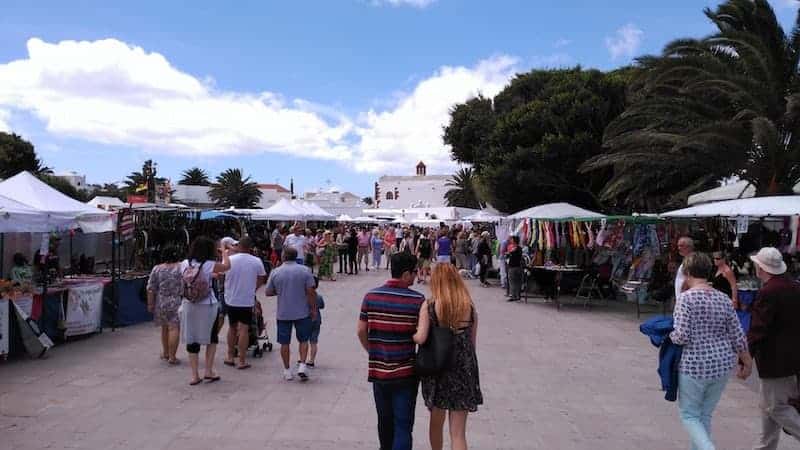 In the Teguise market you'll find stalls with souvenirs, clothing, leather goods and handicrafts. You can also buy some typical products of Lanzarote's gastronomy such as fruits, vegetables, its famous cheeses or some of its most renowned wines.
Teguise was the island's capital until 1852, so, in addition to enjoying all kinds of shops, bars and restaurants, you can also walk the streets of this beautiful town, which is considered one of the most beautiful in the Canary Islands.
Best places to visit and see
Volcanoes, beaches, monuments, charming villages, unique landscapes … all that and much more awaits you in Lanzarote, such as:
6.- Timanfaya National Park (Fire Mountains)
Let's start with the island's most emblematic corner with a  Timanfaya National Park tour. Timanfaya is an overwhelming place, as if it fell from a distance planet. But on the contrary, it comes from the Earth's interior, since everything in this landscape is the result of constant volcanic activity on the island.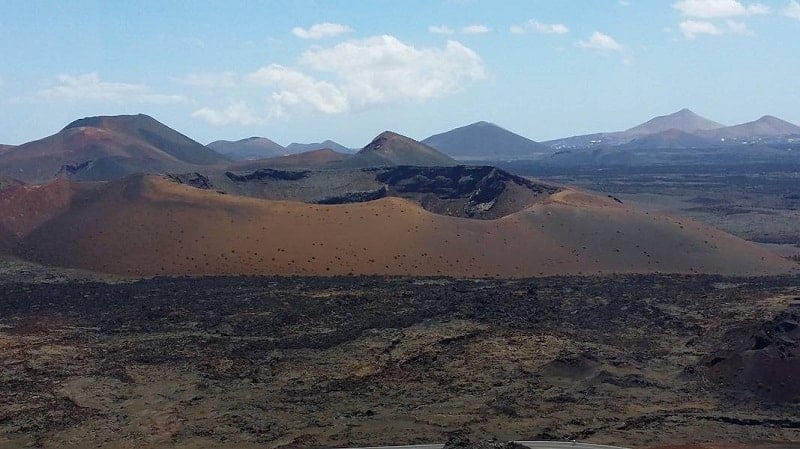 The Timanfaya visit is a must for any visitor who wants to enjoy a few hours of holiday in Lanzarote. Due to the well-organized excursions to Timanfaya, you'll avoid the long access queues that can form at certain times of the year.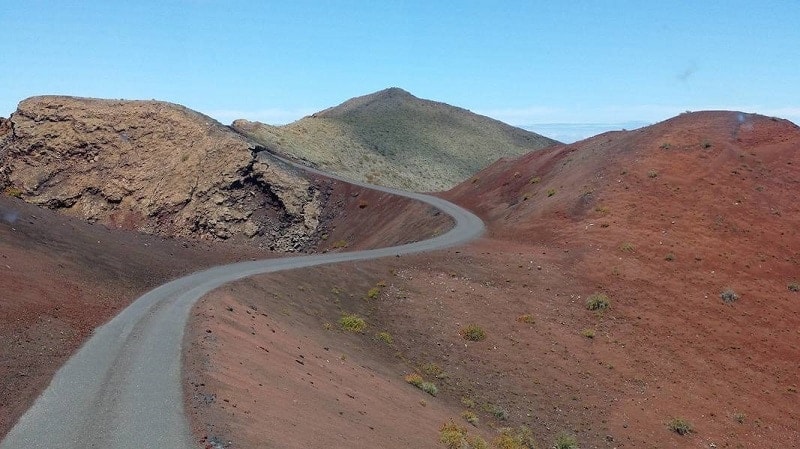 The visit inside the park lasts approximately 90 minutes, which is enough time to see some of the experiments that they carry out in the area known as the Islote de Hilario and to take the bus route along the Volcano Highway.
7.- Cueva de los Verdes – Green Caves
Almost everything in Lanzarote is related to volcanoes. In the Cueva de los Verdes tour you will see that the Green Cave is part of the same volcanic tube as the famous Jameos del Agua. But here we see the action of nature in a much wilder way. And in fact, inside it is overwhelming to think that this place is the result of a huge air bubble between the lava.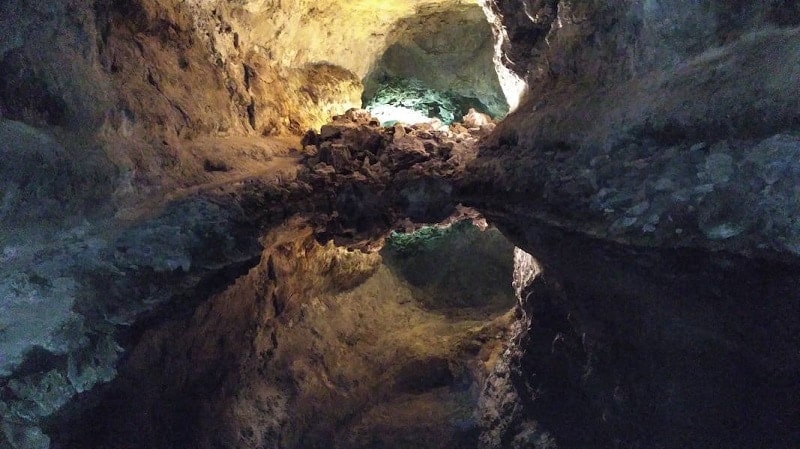 This huge volcanic tube was created due to the eruptions of the Corona Volcano about 3000-5000 years ago and when you visit the Cueva de los Verdes you'll travel through approximately 1 km of underground galleries. And you can't leave the cave without discovering the secret it hides and which you'll only discover by visiting it.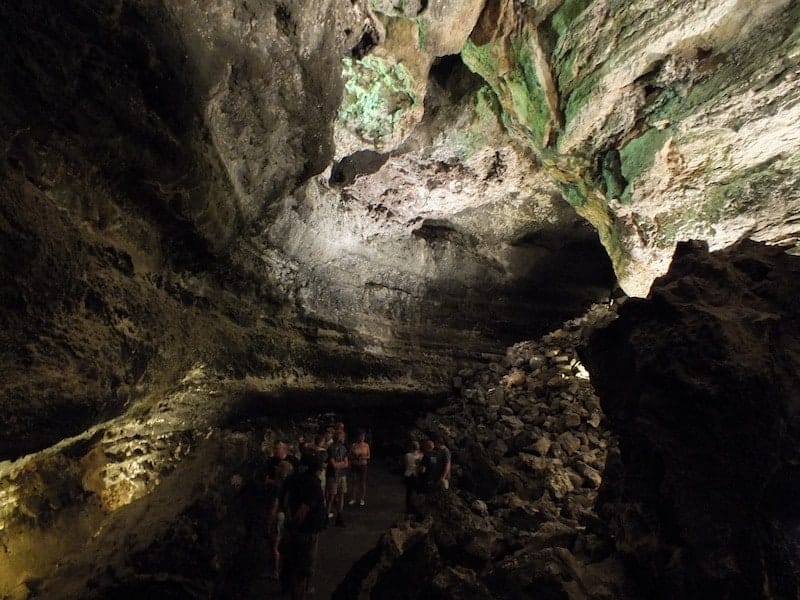 If you suffer from severe claustrophobia or have reduced mobility, we do not advise you to do any of the excursions to the Cueva de los Verdes.
8.- César Manrique Foundation
Anything related to volcanoes and art has to do with Lanzarote's most illustrious and world-famous artist: Cesar Manrique. He is an avant-garde artist who, after traveling and succeeding abroad, return to work in his native land. He settled in Tahíche, in a house that he designed and lived in for 20 years. Today, this house hosts the Cesar Manrique Foundation, where you can find out about his work.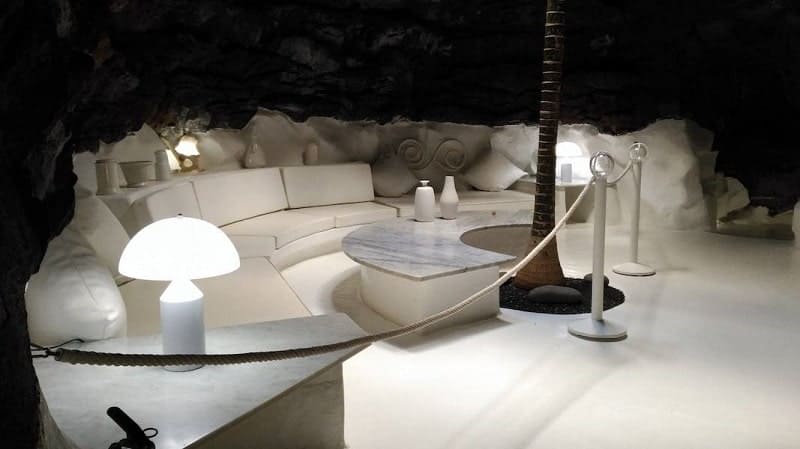 9.- Jameos del Agua
During your holiday in Lanzarote, it is practically an obligation to see different works by Cesar Manrique, and among these perhaps the most spectacular is his intervention in the Jameos del Agua. In the Jameos del Agua tour you will find a place of volcanic origin that he transformed into an auditorium, pools and a unique experience. You will be surprise by the tiny albino crabs of the pool. Nature and art shake hands here.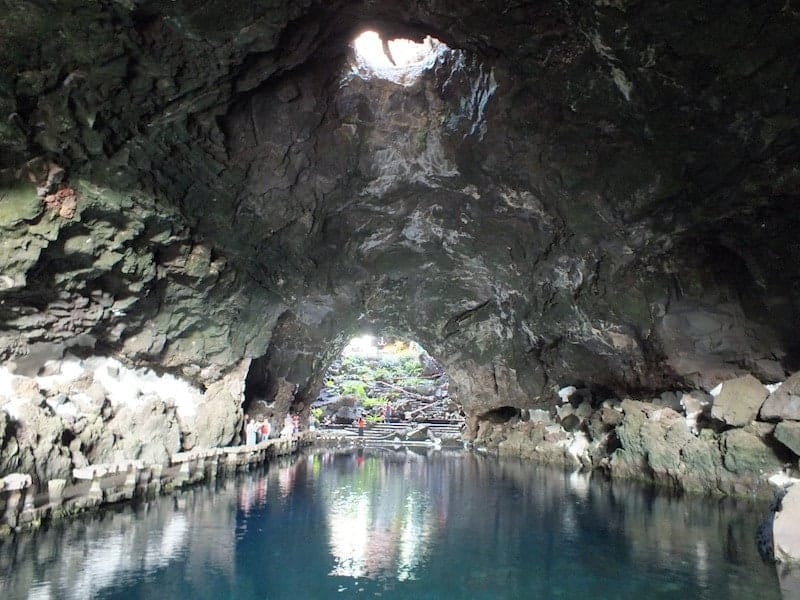 Just like the Cueva de los Verdes, this place is in northern Lanzarote and its volcanic tube was also caused by the eruptions of the Volcán de la Corona.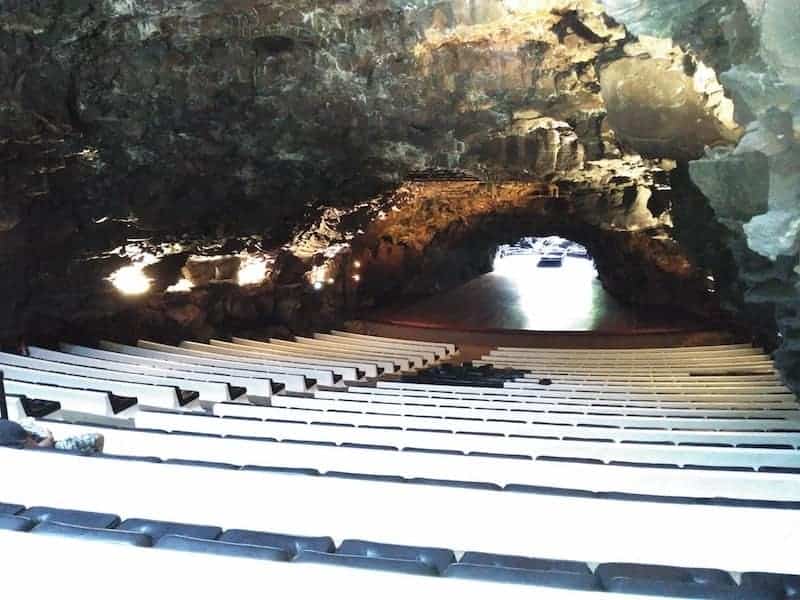 10.- Laguna Verde – Green Lagoon
The volcanic landscapes are surprisingly varied. That can be appreciated around the island, especially in places such as the unique Green Lagoon in the town of El Golfo. It is a lake located next to the ocean. In fact, its waters are a filtration of the sea, but its intense green colour comes from some unique algae. Another name for the Laguna Verde is Charco de los Clicos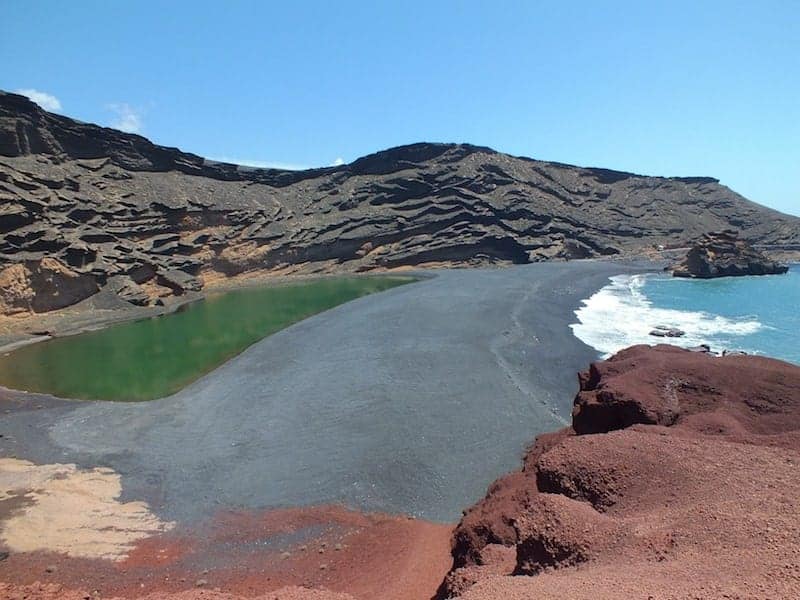 Also known as Lago Verde, this place is one of the natural symbols of Lanzarote. From this viewpoint we can contemplate this beautiful scenery, that combines the blue sea and the green lagoon within a gray volcanic landscape.
11.- LagOmar
We once again invite you to discover another work by Manrique: the exquisite house called LagOmar. This house was also designed by the artist, but its fame is due above all to his most famous owner, who gives it its name: the Hollywood actor Omar Sharif. He fell in love with the house as soon as he saw it, and bought it. However, very soon after, he lost it betting on cards.

When you visit Lagomar you realize that the house is nestled in the wall of a volcanic mountain and that it combines, as in all of Cesar Manrique's works, art and nature.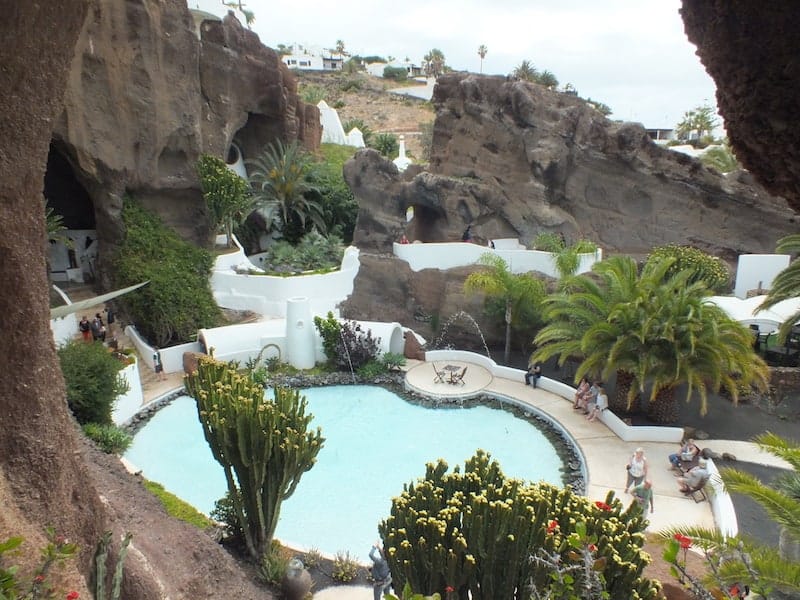 If you visit Lagomar on your own, you'll also find a restaurant and a bar attached to the house.
12.- Los Hervideros
Lanzarote has a coastline that alternates between rugged areas and cliffs with beaches. The Hervideros belongs to the first group. You cannot swim here. It's much better to sit and watch as the water is pushed by the force of the waves and spit through the cavities of these rocks.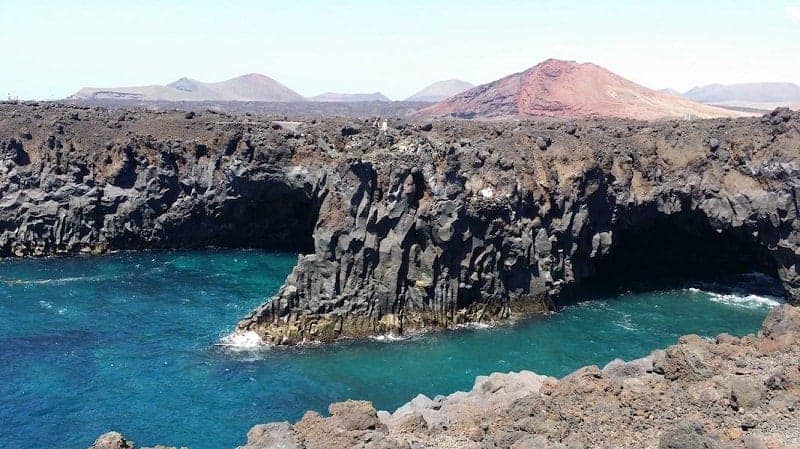 13.- Mirador del Río – River Lookout
Another work by Manrique. He wanted the natural landscape to be the great protagonist of art integrated into nature. And he certainly did in Mirador del Rio, from which you can see the island of La Graciosa.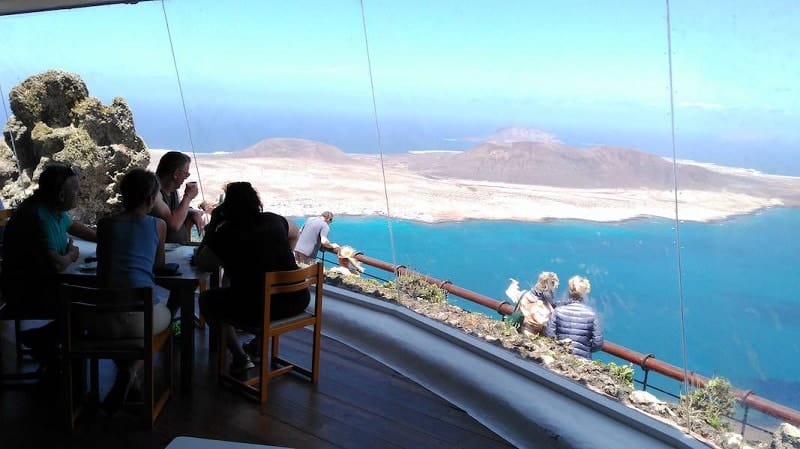 14.- Salinas del Janubio
This other attraction has a very different character, since the Salinas de Janubio are a place of industry. From here, tons of salt have been extracted, which is essential for the fishing industry on the Canary Islands. However, this use does not mean that it does not have very photogenic views thanks to its brightness, intense colours and geometric shapes.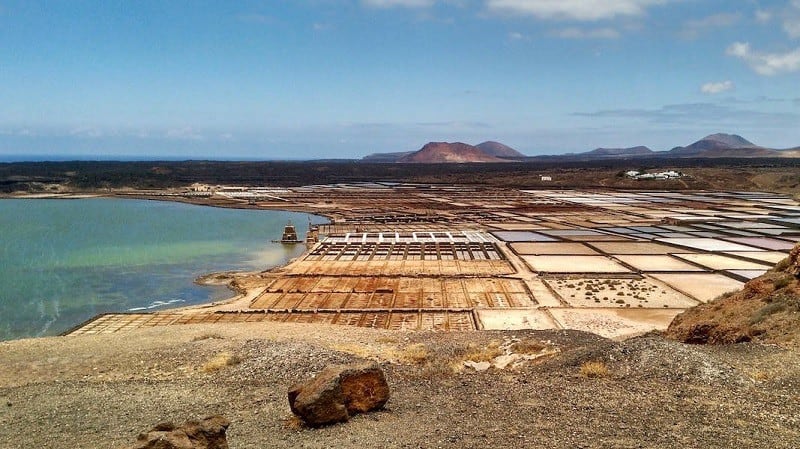 15.- Jardin de Cactus – Cactus Garden
This was the last great landscape work Manrique made on his island. In this case he wanted to recover a degraded space. To do so, he resorted to planting diverse types of cactus from all corners of the planet. Today, you can take a walk among thousands of these plants, which have created an evocative natural environment.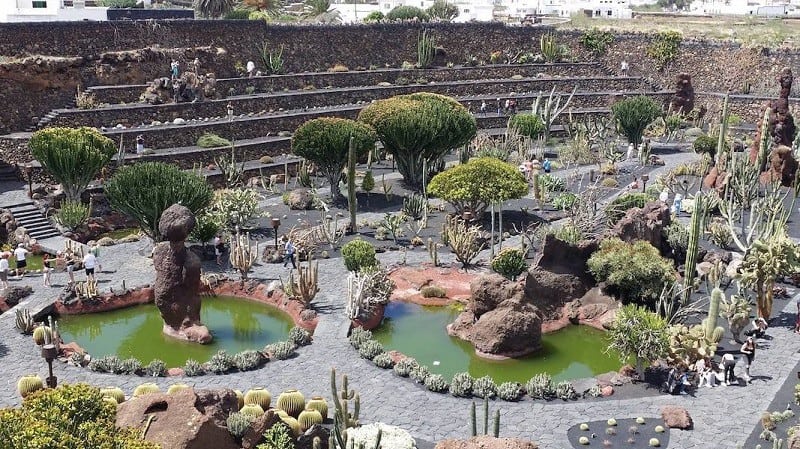 16.- La Geria
Another interior area related to an unusual planting is La Geria. In this case, we refer to the unique vineyards on the island. A few strains grow in holes made in the volcanic soil, which is as dark as it is fertile, surrounded by stone walls that protect them from the wind. The Malvasia grape vines grow here, which make the Denomination of Origin Lanzarote wines.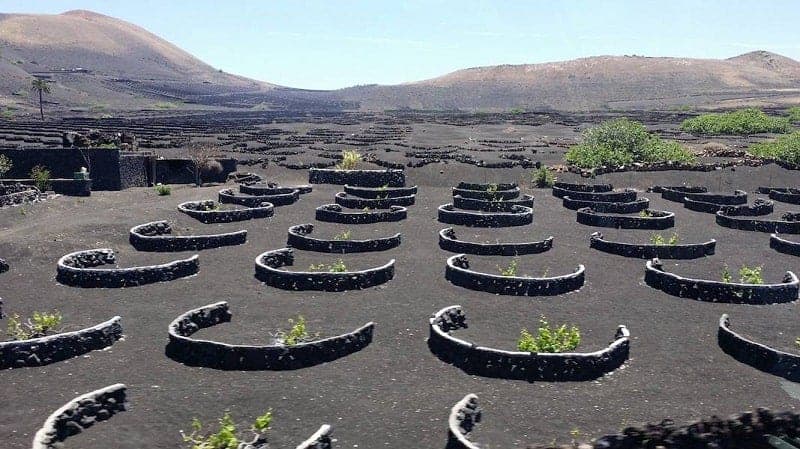 17.- Famara Beach
From the attractive town of Teguise, without a doubt the most beautiful beach is Playa de Famara, which closes with the famous Risco behind it. It is a sandy beach, quite fine and with ochre tones, ideal for sunbathing. The typical wind and waves make it ideal for  surfing classes, including kite and wind surfing.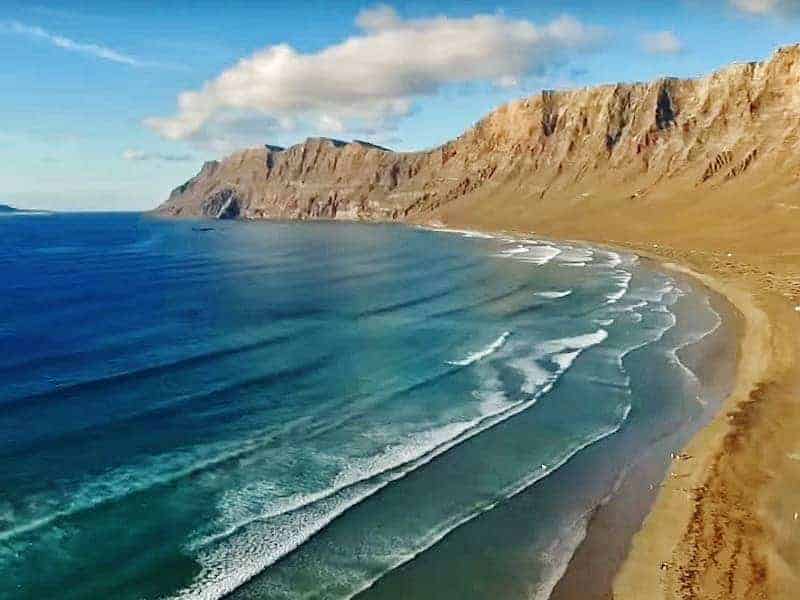 18.- Papagayo Beach
The most visited and peaceful beach on the island is Papagayo beach, located very close to the tourist town Playa Blanca. There are actually 5 coves with a total length of 2 km, in which the best known is Playa de Papagayo.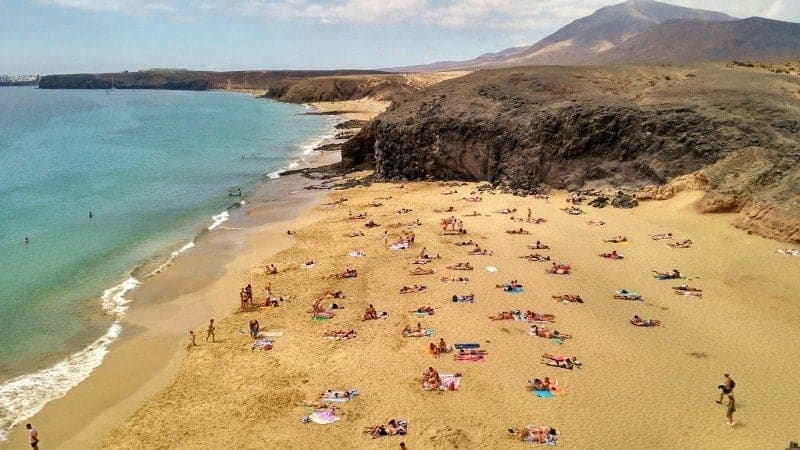 19.- Cuervo Volcano
Have you ever thought about entering the crater of a volcano? You can do so in Lanzarote, in the Cuervo Volcano inside Timanfaya National Park. It is not a large volcano, but it is spectacular enough to provide unique sensations when walking through it.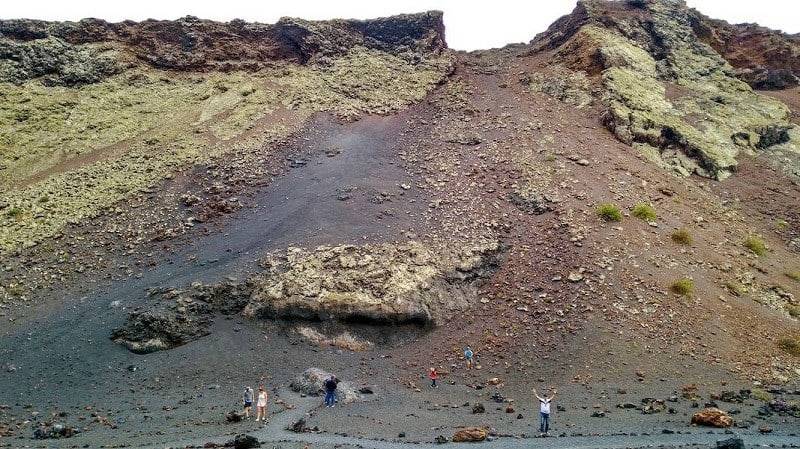 20.- Monumento al Campesino
Located in the geographical center of Lanzarote, this work by César Manrique is a tribute to the island's peasants and represents, as abstract figures, a dog, a camel and a peasant.

21.-  Aloe Vera farm
The visit to the aloe vera farm will allow you to discover the characteristics and curiosities of the aloe species which has ample medicinal properties, the Barbadiensis Miller, and why Lanzarote is one of the best places to grow it.

22.- Mirador de los Helechos
Located in the north of the island, from this viewpoint we can contemplate the northern coast of Lanzarote, the Valley of the 1000 palm trees and three of the island's most beautiful villages: Arrieta, Punta Mujeres and Haria.

Places to visit from Lanzarote
23.- La Graciosa Island
This island forms part of the Chinijo Islands and is located to the north of Lanzarote. It is recommended that you do a boat tour to La Graciosa from Lanzarote in order to enjoy its beaches and to get to know this small island.

24.- Isla de Lobos
This island belongs to the territory of Fuerteventura, but it is true that you can do a Lobos Island day trip from Lanzarote. Why is it called Isla de Lobos? Because of the population of sea lions that existed years ago. They no longer exist, but in return the island offers us fantastic coves and a volcanic landscape, desert, wild and crowed by a volcano.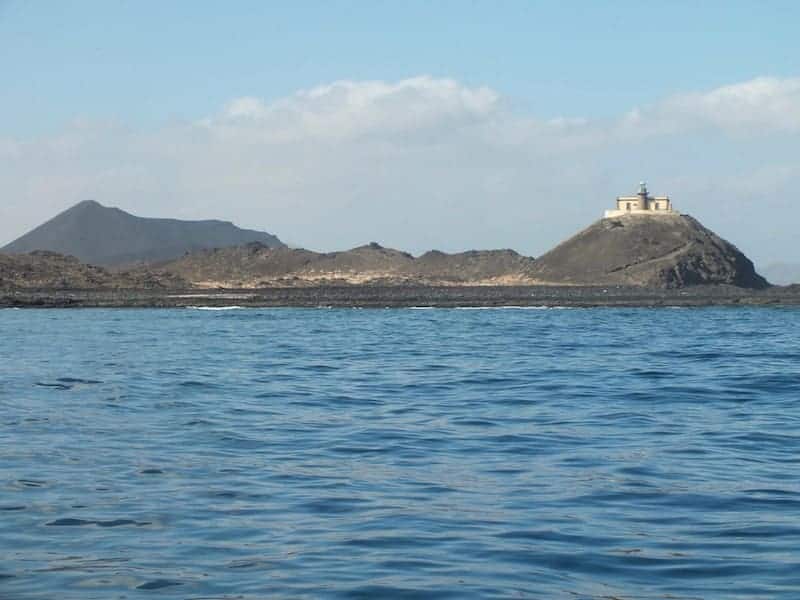 25.- Fuerteventura
If we want to talk about beaches, we have to talk about Fuerteventura, which may have the best beaches in the entire Canary Islands. On the Lanzarote to Fuerteventura day trip, you can visit the north and centre of the island, with totally different landscapes, and visit its main attraction, Corralejo Natural Park, with a spectacular dune field that borders the famous Corralejo Beach.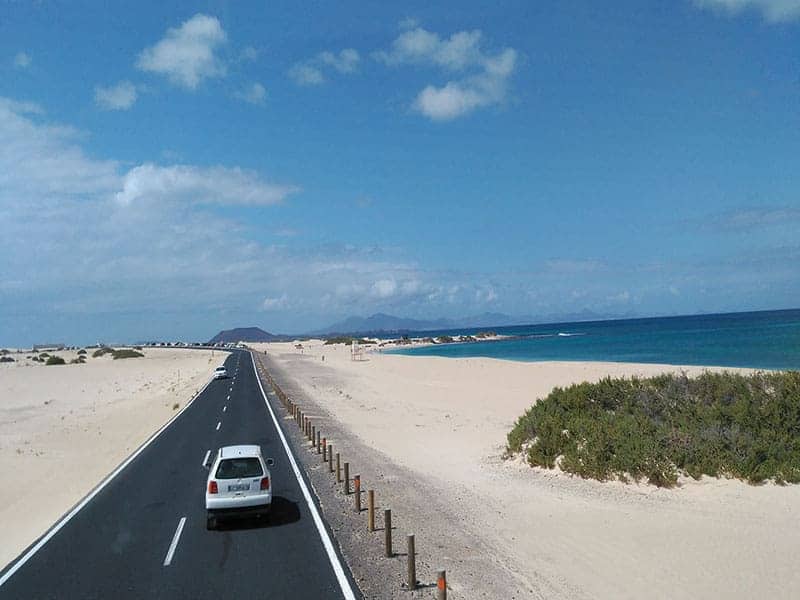 As you can see, Lanzarote is full of things to do and interesting places to visit that we hope you enjoy during your stay on the island. Come with your family, with children, with your partner, alone or with friends and discover them during your holidays.