What to do in Lanzarote
Everything that you can see and do in Lanzarote is in reach. Thanks to the island's dimensions and the various Lanzarote excursions that we offer, you will be able to discover all of its charms during your holiday. Keep reading and we'll show you all the sites that you will see and the experiences you will enjoy during your holiday.
Main attractions
Let's begin by giving you some ideas about stuff you can do in Lanzarote that make it an exciting island.
1.- Camel ride 
The volcanic origin of the island can be seen in almost all its corners, but its wildest and most spectacular aspect can be enjoyed during a visit to Timanfaya National Park and the area known as the Mountains of Fire. The ideal complement to this visit is to feel like an authentic explorer in inhospitable territory by going on a camel ride through Timanfaya. This activity is ideal for people of all ages.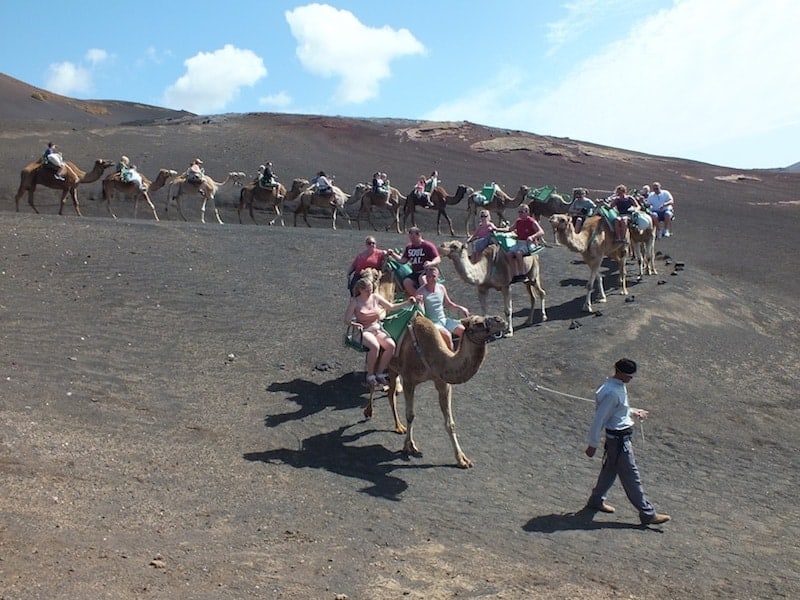 The tour lasts for about 25 minutes and is priced at around 6 euros per person. The caravans leave every 15 minutes and the maximum weight you can ride with is 110 kilos. As there are two people on each camel, the staff will give more weight to the person who weighs less so the camel is well balanced and doesn't wobble too much.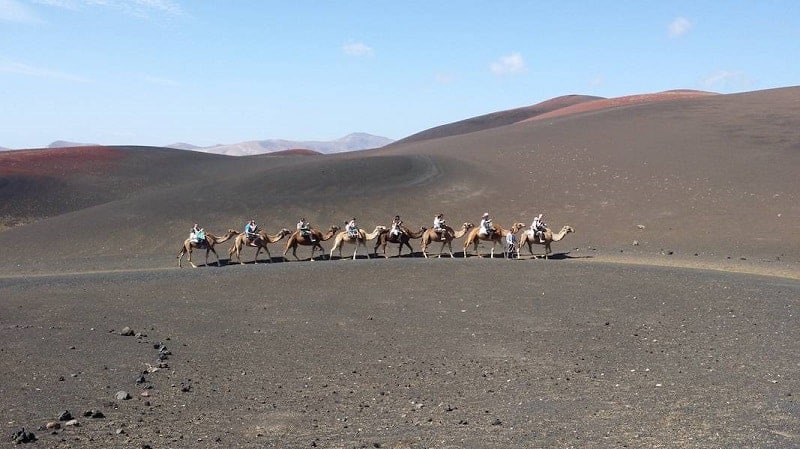 2.- Navigate around Lanzarote
Another star activity to do during your holiday is to go on the Lanzarote boat trips along the coast or to visit the nearby islands of La Graciosa, Isla de Los Lobos or Fuerteventura. And regardless of where you go in the different types of boats that make these tours, you will certainly enjoy great views, and even catch sight of playful dolphins.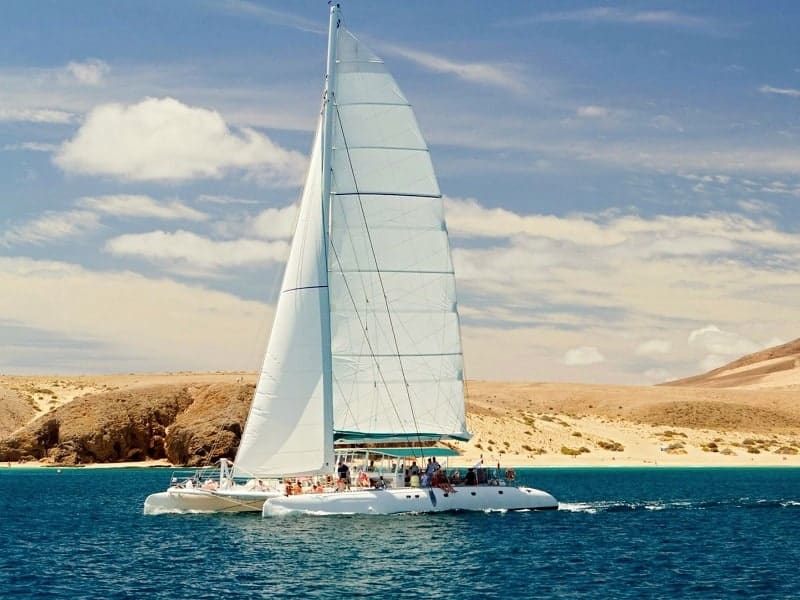 3.- Go on a Jeep excursion
Jeep tours allow you to enjoy an adventure and go to places where no other type of vehicle can travel. Going to Papagayos Beach, Famara Beach or passing through the Cuervo Volcano can only be done with these types of all-terrain vehicles.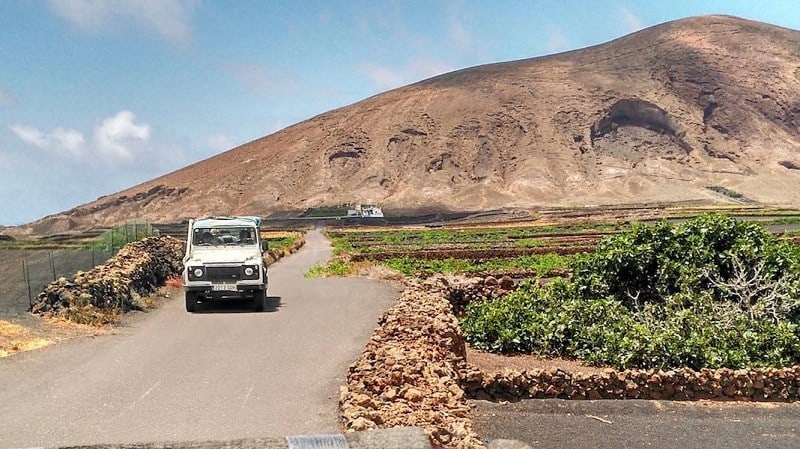 For each route, these 4x4s, which can hold 6 people plus the driver, will take you on dirt and asphalt roads to the most important points of interest.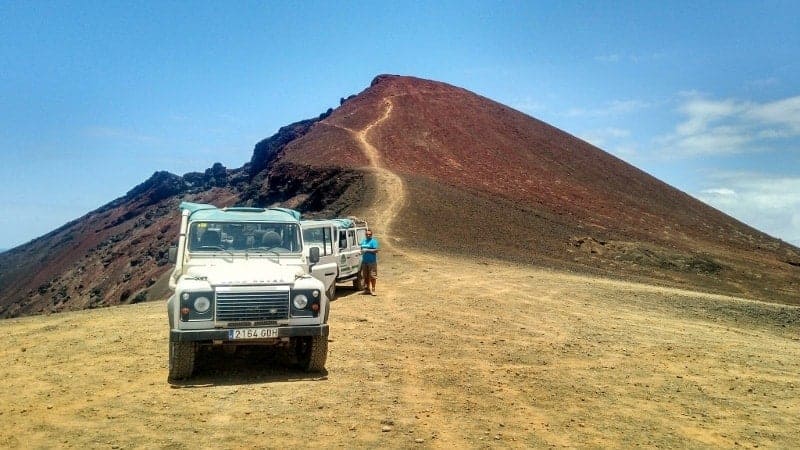 Depending on the weather conditions, the jeeps will either have the top on, if it's very cold or if it's raining, or have the top down so you can enjoy the scenery and the sun. Follow the indications and recommendations proposed in the tour information to enjoy the experience to the fullest.
4.- Sample local cuisine
You'll need to satisfy your stomach in the island. And for that, there's nothing better than savouring the most typical dishes of Lanzarote's cuisine. The island's culinary traditions include potatoes with plenty of gravy, gofio, goat meat or the most popular fish stew: the sancocho. And of course, you have to accompany everything with a good wine with the Denomination of Origin Lanzarote.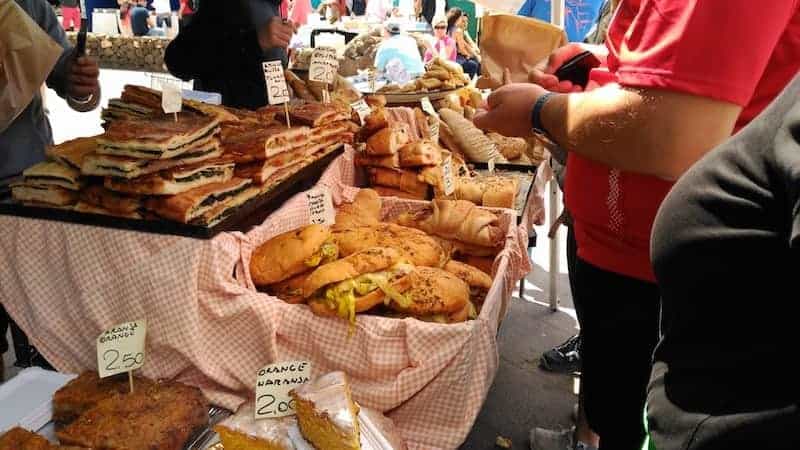 5.- Go shopping in the Teguise Market
You can also try all of those delicacies in the different restaurants during our visit to the Teguise Market, where you can also go shopping and get to know the island's folklore. This is the ideal plan for any Sunday morning of the year, which is when the market is open.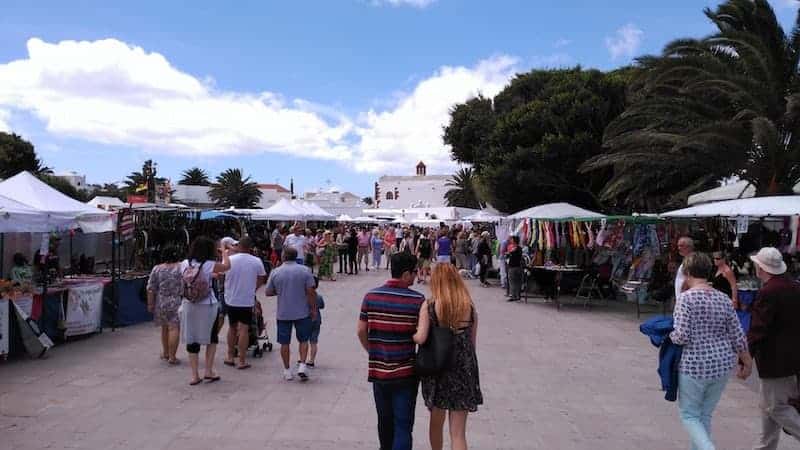 In the Teguise market you'll find stalls with souvenirs, clothing, leather goods and handicrafts. You can also buy some typical products of Lanzarote's gastronomy such as fruits, vegetables, its famous cheeses or some of its most renowned wines.
Teguise was the island's capital until 1852, so, in addition to enjoying all kinds of shops, bars and restaurants, you can also walk the streets of this beautiful town, which is considered one of the most beautiful in the Canary Islands.
Best places to visit and see
Volcanoes, beaches, monuments, charming villages, unique landscapes … all that and much more awaits you in Lanzarote, such as:
6.- Timanfaya National Park (Fire Mountains)
Let's start with the island's most emblematic corner with a  Timanfaya National Park tour. Timanfaya is an overwhelming place, as if it fell from a distance planet. But on the contrary, it comes from the Earth's interior, since everything in this landscape is the result of constant volcanic activity on the island.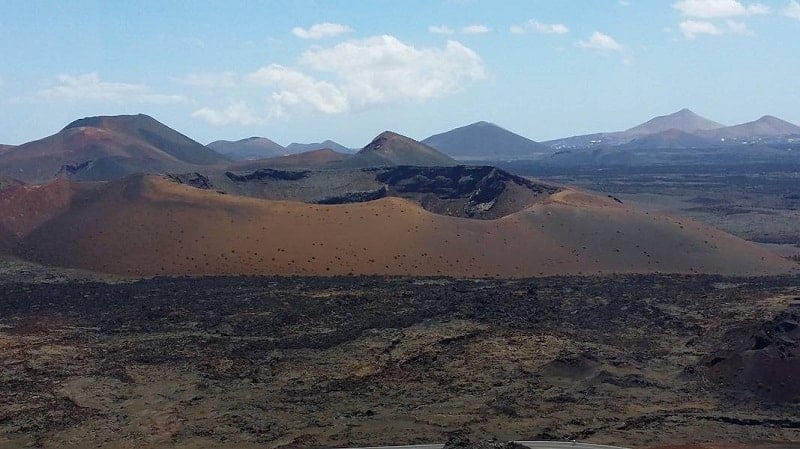 The Timanfaya visit is a must for any visitor who wants to enjoy a few hours of holiday in Lanzarote. Due to the well-organized excursions to Timanfaya, you'll avoid the long access queues that can form at certain times of the year.
Timanfaya was declared a National Park in 1974, and remains the only one with such designation among the different islands of Las Palmas.
In total, Timanfaya National Park occupies more than 51 square kilometres to the southeast of Lanzarote, inside the municipalities of Yaiza an Tinajo. And in that location, there are 25 volcanos, all of which are active although the latest eruption took place in 1824.
There are places where it's easy to experience the dormant volcanic activity underground, since there are enclaves that reach up to 600 degrees only about 13 metres deep, which can be exemplified by pouring water in any of the cracks in the ground and watch as that water is immediately turned into a stream of steam, like a true geyser.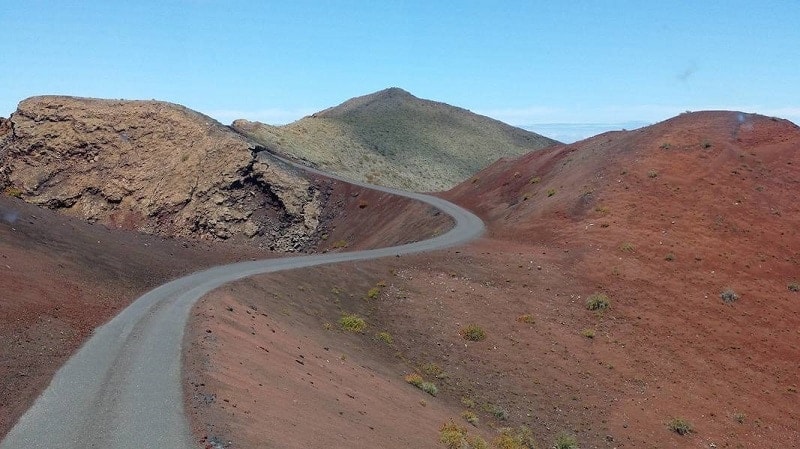 The visit inside the park lasts approximately 90 minutes, which is enough time to see some of the experiments that they carry out in the area known as the Islote de Hilario and to take the bus route along the Volcano Highway.
7.- Cueva de los Verdes – Green Caves
Almost everything in Lanzarote is related to volcanoes. In the Cueva de los Verdes tour you will see that the Green Cave is part of the same volcanic tube as the famous Jameos del Agua. But here we see the action of nature in a much wilder way. And in fact, inside it is overwhelming to think that this place is the result of a huge air bubble between the lava.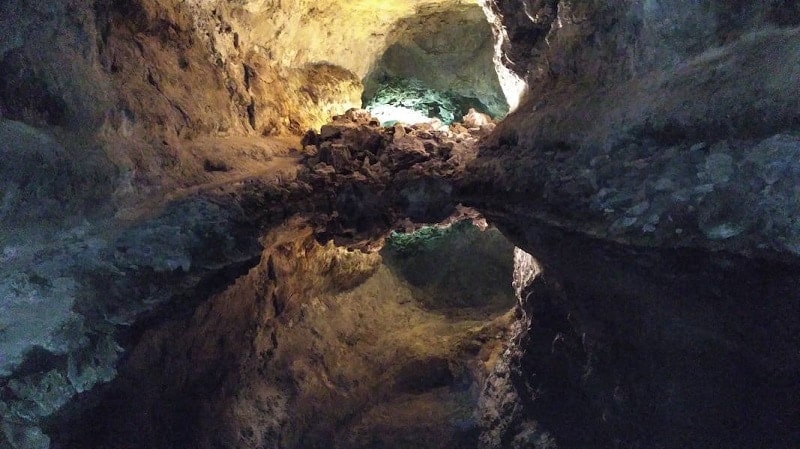 This huge volcanic tube was created due to the eruptions of the Corona Volcano about 3000-5000 years ago and when you visit the Cueva de los Verdes you'll travel through approximately 1 km of underground galleries. And you can't leave the cave without discovering the secret it hides and which you'll only discover by visiting it.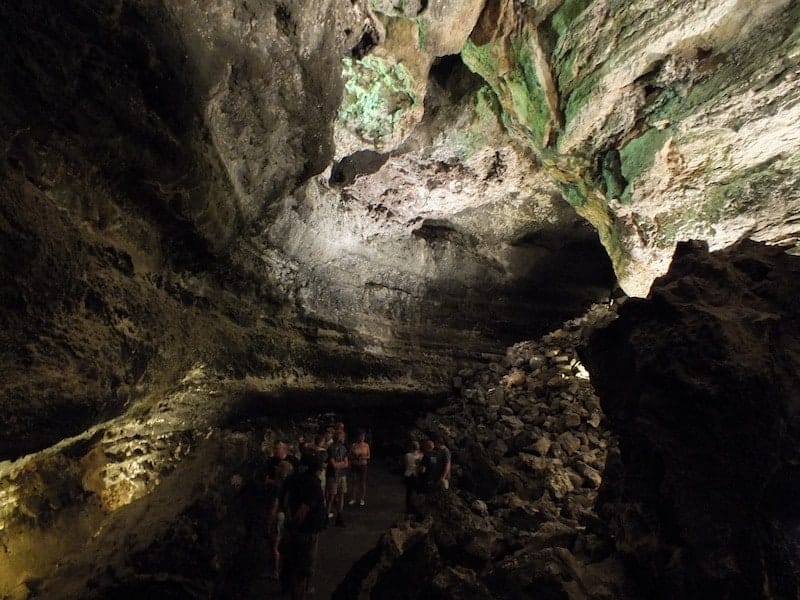 This labyrinth of caverns is truly fascinating, especially where it reaches heights of up to 50 metres and passages around 15 metres high. And throughout these passages, different geological and volcanic forms can be discovered, like the different layers of lava and a series of spectacular colours that cover a wide spectrum of reddish and ochre tones.
And everything can be visited at a constant temperature of around 19 degrees centigrade, which means it's advisable to wear a lightweight jacket for your visit. It's also important to wear appropriate close-toed shows, since it is a natural cave with rugged footing.
If you suffer from severe claustrophobia or have reduced mobility, we do not advise you to do any of the excursions to the Cueva de los Verdes.
8.- César Manrique Foundation
Anything related to volcanoes and art has to do with Lanzarote's most illustrious and world-famous artist: Cesar Manrique. He is an avant-garde artist who, after traveling and succeeding abroad, return to work in his native land. He settled in Tahíche, in a house that he designed and lived in for 20 years. Today, this house hosts the Cesar Manrique Foundation, where you can find out about his work.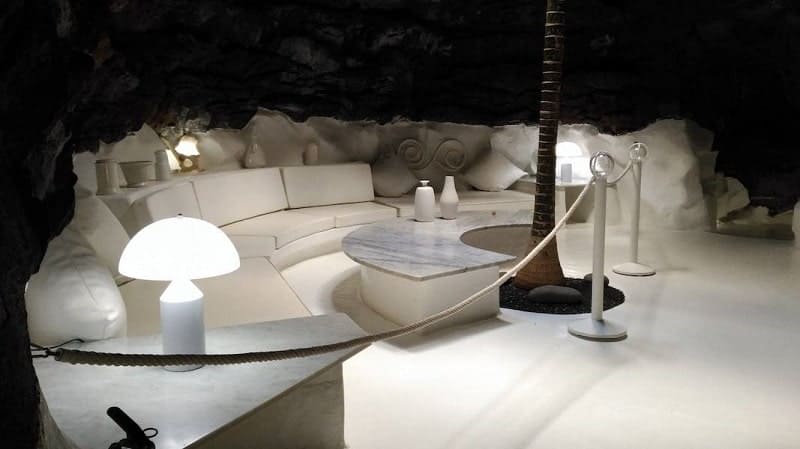 Today the building can be visited. Tourists have come to the César Manrique museum from all over the world in order to see this construction, built in 1968 over a landscape that was comprised of lave from a volcanic eruption in the 18th century. This way, Manrique created a space with everything that characterizes the island, since he used the most traditional forms of architecture and integrated them with the volcanic essence. He even took advantage of the enormous bubbles that remained in the lava to set up different areas of his home.
9.- Jameos del Agua
During your holiday in Lanzarote, it is practically an obligation to see different works by Cesar Manrique, and among these perhaps the most spectacular is his intervention in the Jameos del Agua. In the Jameos del Agua tour you will find a place of volcanic origin that he transformed into an auditorium, pools and a unique experience. You will be surprise by the tiny albino crabs of the pool. Nature and art shake hands here.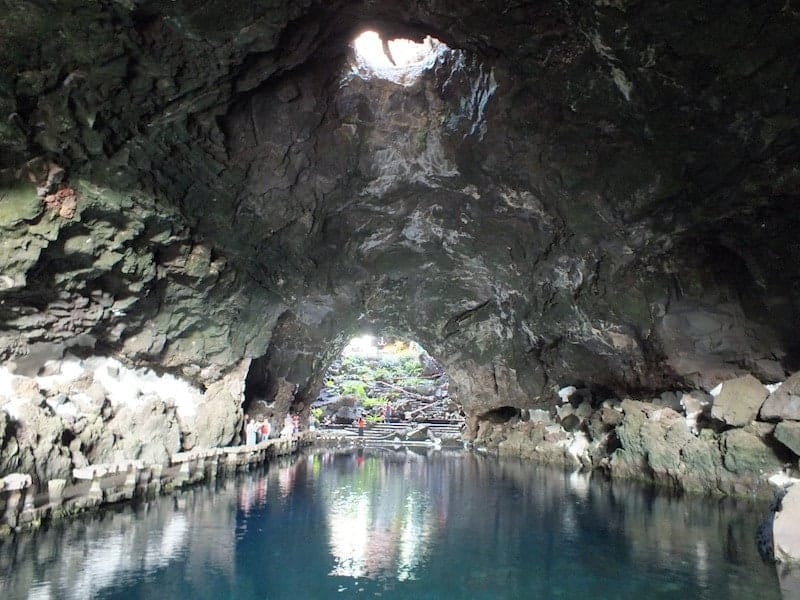 Just like the Cueva de los Verdes, this place is in northern Lanzarote and its volcanic tube was also caused by the eruptions of the Volcán de la Corona.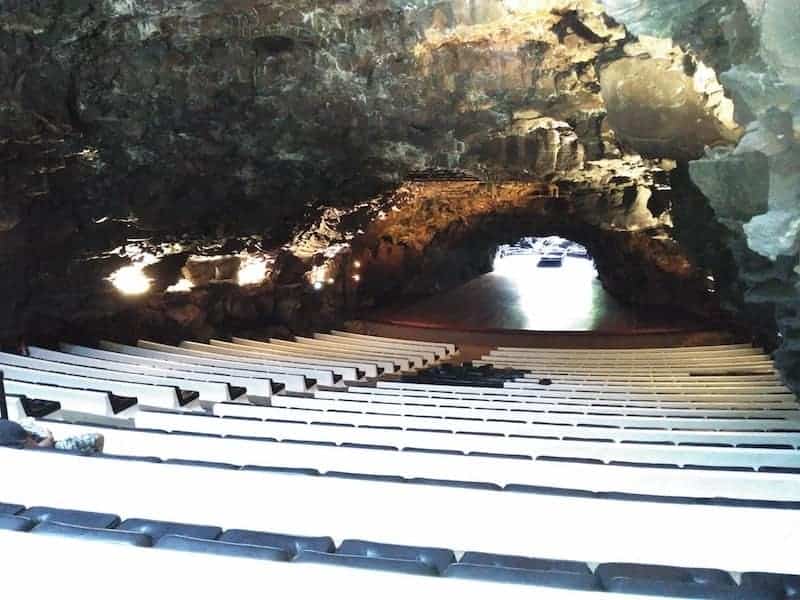 The truth is that Jameos del Agua is the highest expression of Manrique, achieving maximum harmony between nature and his artistic creations. And today Jameos del Agua can be visited for its cultural value, which is largely due to this multidisciplinary artist's intervention and his ability to fuse nature and art like few others.
The result is that it is a Centre of Art, Culture and Tourism where every detail is given consideration. For example, there is an underground auditorium where concerts are regularly held. The auditorium is one of the highlights of a visit to Jameos del Agua.
And of course the inland lake itself is another point of great interest. It is a small pool of water with great beauty, but it also hides interesting life forms, with at least a dozen endemic species. One such species is a small, blind crab that never sees the light of day. Their scientific name is Munidopsis polymorpha, although these crabs are more commonly known as "los jameitos."
10.- Laguna Verde – Green Lagoon
The volcanic landscapes are surprisingly varied. That can be appreciated around the island, especially in places such as the unique Green Lagoon in the town of El Golfo. It is a lake located next to the ocean. In fact, its waters are a filtration of the sea, but its intense green colour comes from some unique algae. Another name for the Laguna Verde is Charco de los Clicos.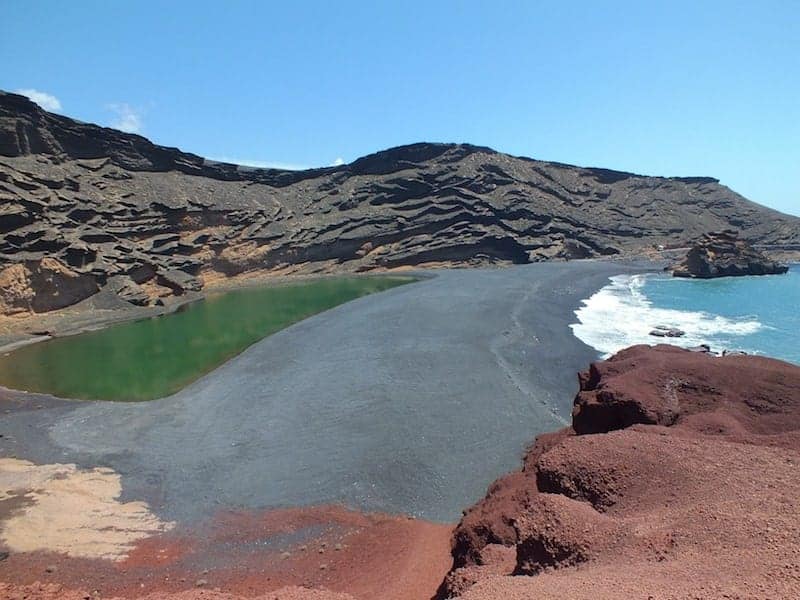 Like practically all of Lanzarote's tourist attractions, Laguna Verde can be seen in any  volcano tour. In this case it is right on the coast, and therefore the trip is complemented by a visit to the neighbouring El Golfo beach. In fact, if you'd like to swim, you'd have to do so at this beach and never in Charco de los Clicos, where it is strictly prohibited.
This prohibition is due to the natural value of the lake. Its origin was the crater of a volcano that erupted in the year 1730, and after that it remained sunken and full of water. It is surrounded by a cliff that acts like a natural amphitheatre where you can contemplate the ocean, beach and lagoon.
However, the water in the lagoon does not come in with tide. In reality, Laguna Verde is connected with the ocean via different underground conduits and cracks. This way, although it seems like it, the water is not stagnant, but rather renewed constantly.
That's why there is life inside the lake, basically a type of algae that give it its characteristic intense green colour, which greatly contrasts with the black colour of the surrounding beach. For the conservation of this rare habitat, it was named a Natural Reserve, and it's prohibited to even touch its waters.
It's all to preserve the presence of this type of algae, Ruppia marítima, and to guarantee that the semiprecious stones generated here continue to exist. These are called olivines, which the local artisans and jewellers use to make attractive souvenirs from Lanzarote.
Also known as Lago Verde, this place is one of the natural symbols of Lanzarote. From this viewpoint we can contemplate this beautiful scenery, that combines the blue sea and the green lagoon within a gray volcanic landscape.
11.- LagOmar
We once again invite you to discover another work by Manrique: the exquisite house called LagOmar. This house was also designed by the artist, but its fame is due above all to his most famous owner, who gives it its name: the Hollywood actor Omar Sharif. He fell in love with the house as soon as he saw it, and bought it. However, very soon after, he lost it betting on cards.
After that, it's said that Omar Shariff left the island dejected and never returned. It's true that years later he denied the entire story, saying that it was a marketing ploy cooked up by the government of Lanzarote to promote the island at an international level, taking advantage of a Hollywood actor's fame.

When you visit Lagomar you realize that the house is nestled in the wall of a volcanic mountain and that it combines, as in all of Cesar Manrique's works, art and nature.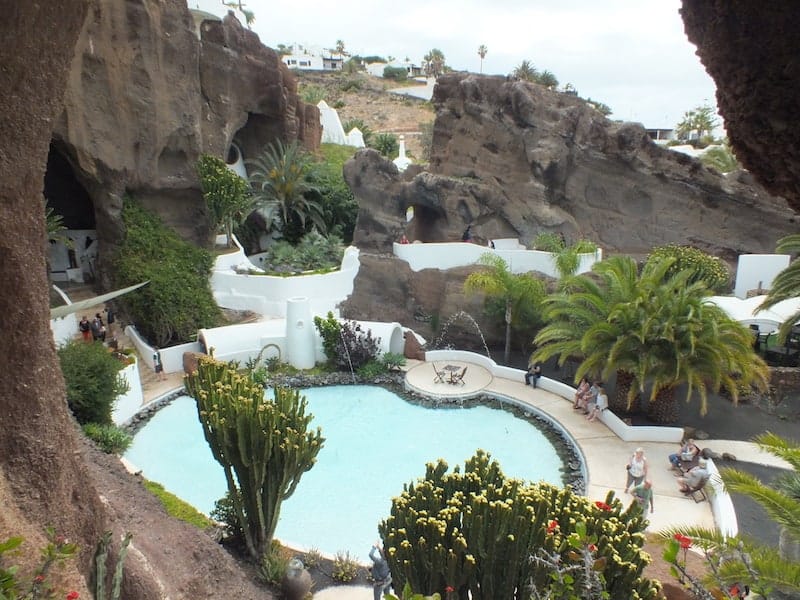 If you visit Lagomar on your own, you'll also find a restaurant and a bar attached to the house.
12.- Los Hervideros
Lanzarote has a coastline that alternates between rugged areas and cliffs with beaches. The Hervideros belongs to the first group. You cannot swim here. It's much better to sit and watch as the water is pushed by the force of the waves and spit through the cavities of these rocks.
Los Hervideros occupy a part of the coast that was formed after thousands of years of accumulated lava, brought up from the eruptions of nearby volcanos.
That lava arrived at the Atlantic Ocean at extremely high temperatures, and over the course of time and progressive col, it was transformed into a rocky but completely solid landscape. During that process, the ocean waters and the gas from the volcanic magma generated bubbles and underground tubes.
Those bubbles and tubes have become cavities and holes through which the ocean waves are filtered, sometimes so strongly that the water runs through the entire underground system and appears on the surface of the island, considerably far from the sea. And obviously that water is boiling from the volcanic heat as it pours forth, hence the name of this scenic tourist spot.
In reality, what is seen at Los Hervideros is the tremendous strength of nature that can sometimes be truly dangerous for people. Therefore, a lookout has been constructed in order to view this phenomenon in a safe way, avoiding unpleasant accidents, since we're talking about a place where the rugged footing is quite rough, and then we have to factor in the strength of the wave, coming from a point along the coast where the waves are usually quite strong.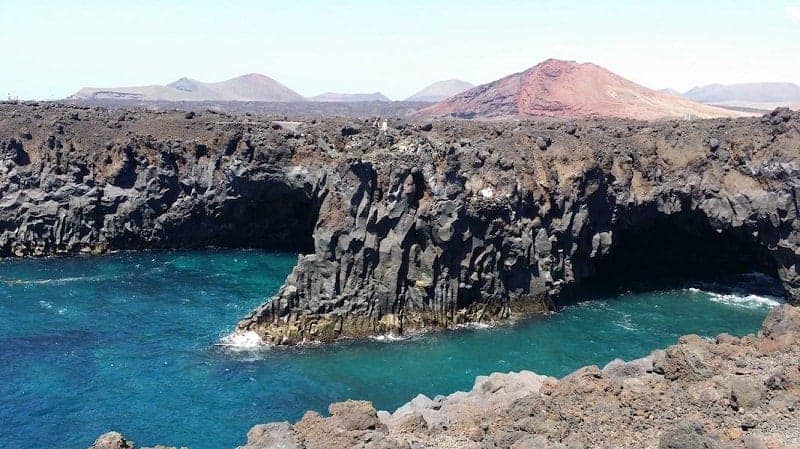 13.- Mirador del Río – River Lookout
Another work by Manrique. He wanted the natural landscape to be the great protagonist of art integrated into nature. And he certainly did in Mirador del Rio, from which you can see the island of La Graciosa.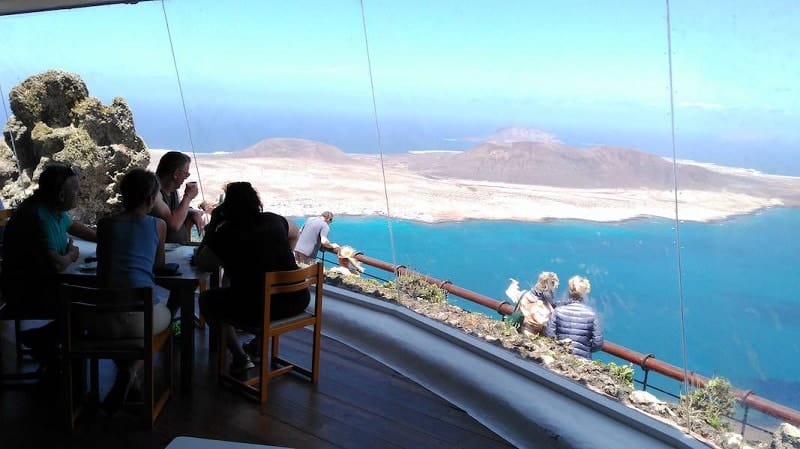 The River Lookout is located practically at the northernmost part of the island. It is located at a considerable height, more than 400 metres over the rugged relief of the Risco de Famara. It is an ideal vantage point for a bird's eye view of one of the widest and most beautiful panoramas of Lanzarote. Before your very eyes you will see the immensity of the Atlantic Ocean, and by the coast you will discover one of the oldest salt mines on the island: the Salinas River.
What makes this creation truly special is not just the views that it offers, but also the fact that the River Lookout is practically invisible from afar due to its semi-underground construction integrated into the rock. Therefore, it's not until you arrive at the place that you can truly appreciate the magic of this creation by César Manrique, an artist capable of generating works like the River Lookout and whose intention was to make his beloved native island the main character of all of his works.
14.- Salinas del Janubio
This other attraction has a very different character, since the Salinas de Janubio are a place of industry. From here, tons of salt have been extracted, which is essential for the fishing industry on the Canary Islands. However, this use does not mean that it does not have very photogenic views thanks to its brightness, intense colours and geometric shapes.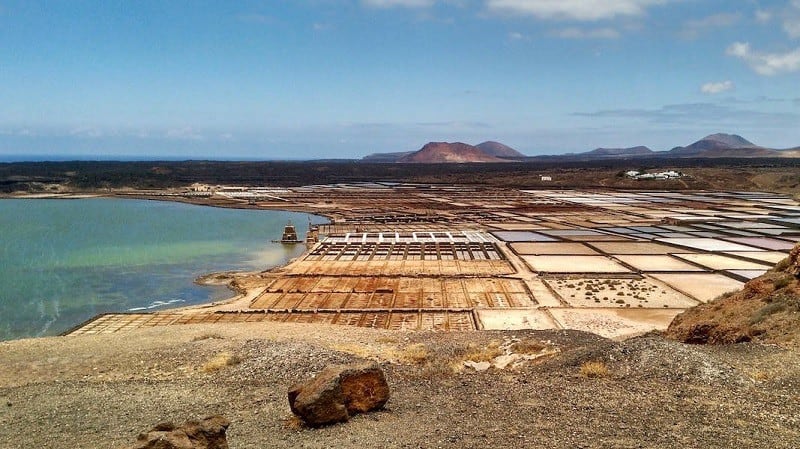 The visit to the Janubio Salt Mine also means discovering a landscape different from the other areas of Lanzarote. Here you can see more than 400,000 square metres of salt formations, all of which surrounds a large central lake that is the main character of most of this immense territory, otherwise dominated by the white salt and the intense reflections of the sun. However, the view of this place, which is full of traditions, colours, architectural heritage and the sea, is undeniably photogenic.
It's surprising to learn that this place could be so old, but the mine has been exploited since 1895.
15.- Jardin de Cactus – Cactus Garden
This was the last great landscape work Manrique made on his island. In this case he wanted to recover a degraded space. To do so, he resorted to planting diverse types of cactus from all corners of the planet. Today, you can take a walk among thousands of these plants, which have created an evocative natural environment.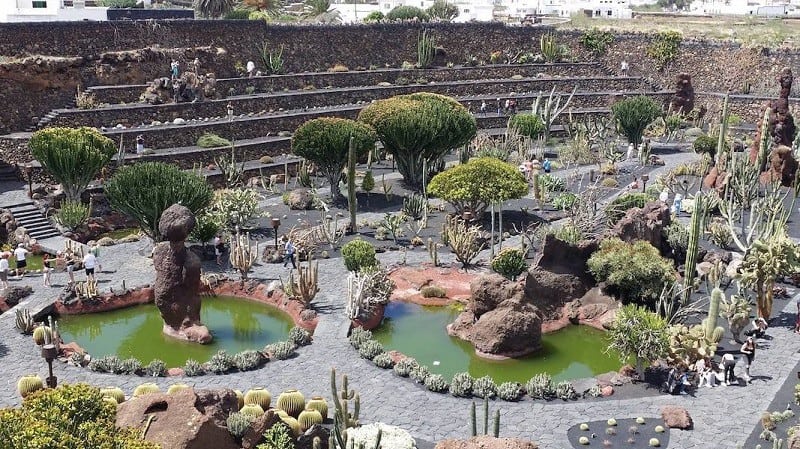 16.- La Geria
Another interior area related to an unusual planting is La Geria. In this case, we refer to the unique vineyards on the island. A few strains grow in holes made in the volcanic soil, which is as dark as it is fertile, surrounded by stone walls that protect them from the wind. The Malvasia grape vines grow here, which make the Denomination of Origin Lanzarote wines.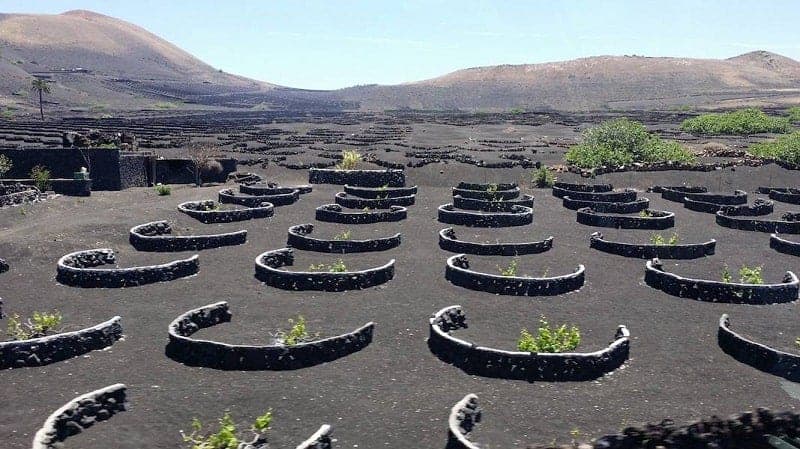 17.- Famara Beach
From the attractive town of Teguise, without a doubt the most beautiful beach is Playa de Famara, which closes with the famous Risco behind it. It is a sandy beach, quite fine and with ochre tones, ideal for sunbathing. The typical wind and waves make it ideal for  surfing classes, including kite and wind surfing.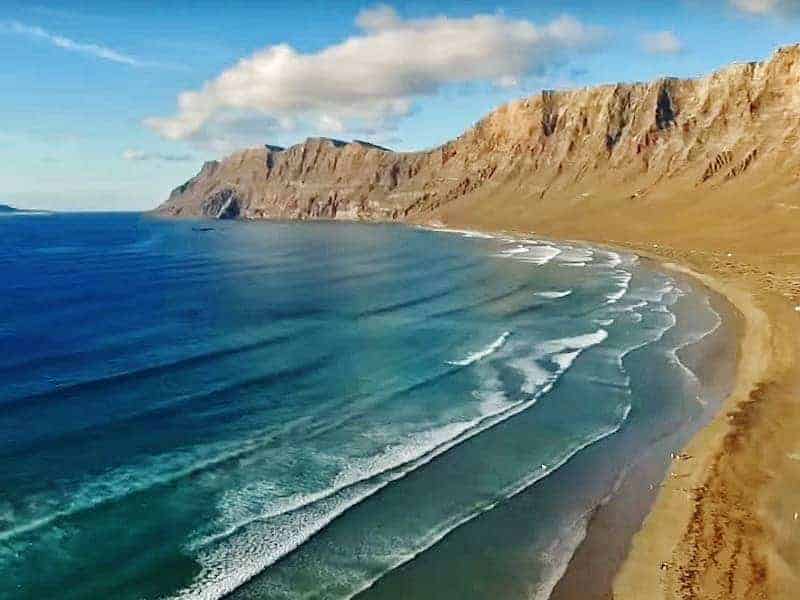 18.- Papagayo Beach
The most visited and peaceful beach on the island is Papagayo beach, located very close to the tourist town Playa Blanca. There are actually 5 coves with a total length of 2 km, in which the best known is Playa de Papagayo.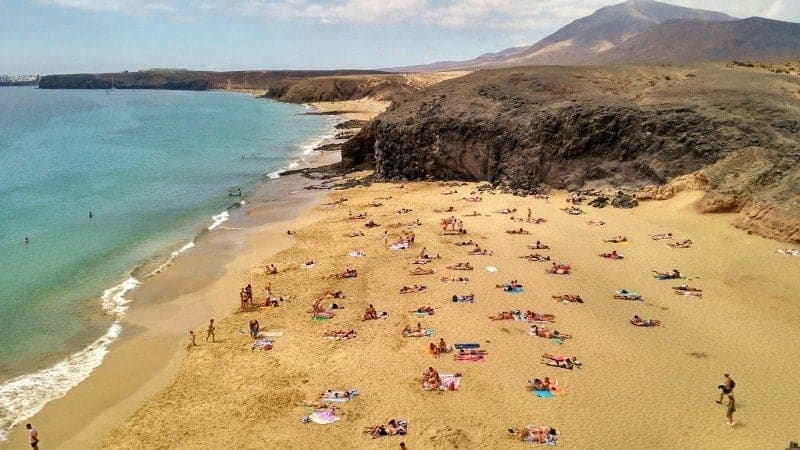 19.- Cuervo Volcano
Have you ever thought about entering the crater of a volcano? You can do so in Lanzarote, in the Cuervo Volcano inside Timanfaya National Park. It is not a large volcano, but it is spectacular enough to provide unique sensations when walking through it.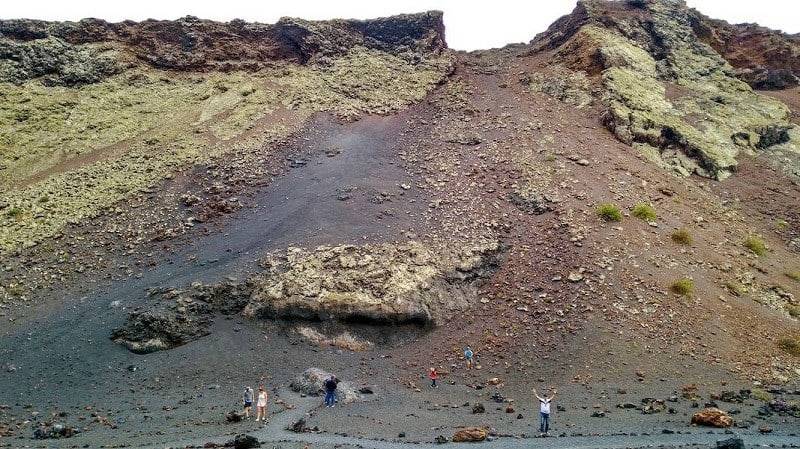 20.- Monumento al Campesino
Located in the geographical center of Lanzarote, this work by César Manrique is a tribute to the island's peasants and represents, as abstract figures, a dog, a camel and a peasant.

21.-  Aloe Vera farm
The visit to the aloe vera farm will allow you to discover the characteristics and curiosities of the aloe species which has ample medicinal properties, the Barbadiensis Miller, and why Lanzarote is one of the best places to grow it.

22.- Mirador de los Helechos
Located in the north of the island, from this viewpoint we can contemplate the northern coast of Lanzarote, the Valley of the 1000 palm trees and three of the island's most beautiful villages: Arrieta, Punta Mujeres and Haria.

Places to visit from Lanzarote
23.- La Graciosa Island
This island forms part of the Chinijo Islands and is located to the north of Lanzarote. It is recommended that you do a boat tour to La Graciosa from Lanzarote in order to enjoy its beaches and to get to know this small island.

Although La Graciosa is the most visited island of this archipelago, it is also the only one that is inhabited and can boast that there is not one square metre of asphalt in its interior. Obviously the main way to reach it is by boat, docking at the port of its capital: Caleta del Sebo.
This fishing village is enchanting due to its location, its port, its popular whitewashed houses and its sandy streets. In facts, it could be said that its appearance is very similar to what it could have looked like when it was founded in the mid-19th century, when fishermen settled here to exploit the abundant fishing banks nearby.
Interest in the island is obviously based on its coastline and attractive beaches, as well as landscapes that feature several volcanoes, since it is otherwise a completely flat island. Therefore the area called Las Agujas commands attention, reaching a height of 266 metres.
However, some of the great features of La Graciosa are its colourful beaches, such as Playa Francesa. There are some beaches that are not only great for sun bathing or swimming, but also ideal for contemplating and photographing the great variety of colours, ranging from red to yellow and ochre. In fact, some say that the name La Graciosa comes from such pleasant landscapes full of colour.
24.- Isla de Lobos
This island belongs to the territory of Fuerteventura, but it is true that you can do a Lobos Island day trip from Lanzarote. Why is it called Isla de Lobos? Because of the population of sea lions that existed years ago. They no longer exist, but in return the island offers us fantastic coves and a volcanic landscape, desert, wild and crowed by a volcano.
On Isla de Lobos you'll have 2.5h to get the most out of the island. If you like exploring and walking, take the opportunity to hike and climb the 127 meters to the top of the volcano, or the Martiño Lighthouse.
If you'd rather relax on the beach and enjoy the sea, we suggest visiting Concha beach or some other swimming spot, and if you bring your snorkeling kit, you can definitely use it here.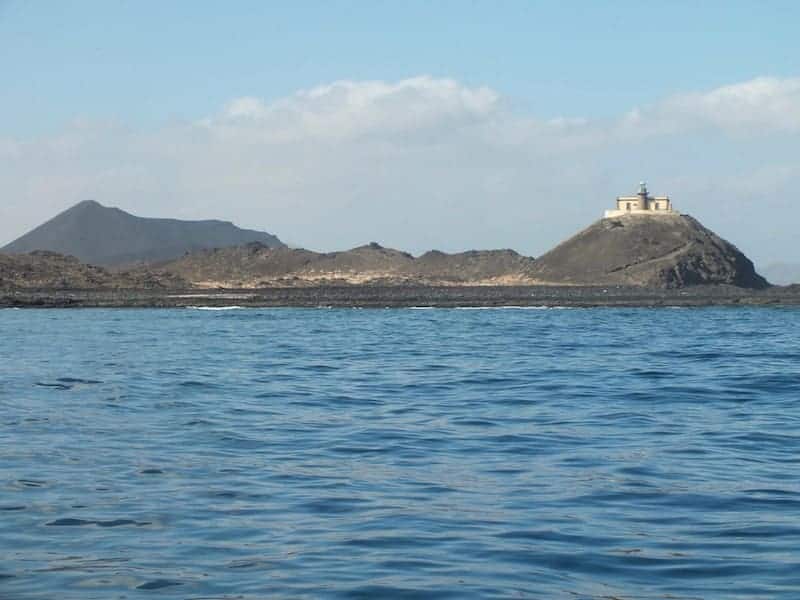 25.- Fuerteventura
If we want to talk about beaches, we have to talk about Fuerteventura, which may have the best beaches in the entire Canary Islands. On the Lanzarote to Fuerteventura day trip, you can visit the north and centre of the island, with totally different landscapes, and visit its main attraction, Corralejo Natural Park, with a spectacular dune field that borders the famous Corralejo Beach.
We have designed an itinerary that allows us to make the most of our time getting to know the most celebrated places in Fuerteventura in a single day. Keeping in mind that the island is quite large, over 100 kilometres long by 20 wide, it's impossible to tour it in its entirety in just one day.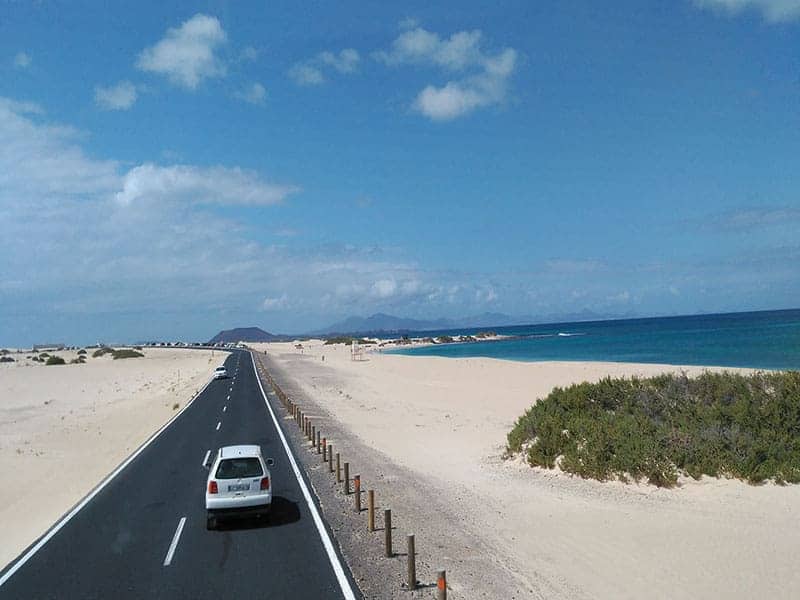 As you can see, Lanzarote is full of things to do and interesting places to visit that we hope you enjoy during your stay on the island. Come with your family, with children, with your partner, alone or with friends and discover them during your holidays.
Other family things to do in Lanzarote with children
These are some of the activities and tours to do with your kids.
26.- Spend the day at a water park
Aquapark, Aqualava and Rancho Texas are the three water parks on Lanzarote where you can have fun jumping down the slides, taking advantage of the good weather and the island's spring temperatures.
27.- See dolphins in their natural habitat
Dolphin-watching boat tours are some of the most popular activities on the island. The experience of spotting dolphins and other cetaceans in their natural habitat, freely swimming a few meters from the boat hull, is one of the most impressive and exciting experiences that you'll remember from your holidays on the island.
On boat trips to see dolphins you will have a 60% chance of sighting throughout the year. There is no guarantee of seeing dolphins since they are free, in their natural habitat and they are constantly moving.
Due to the temperate temperature of the sea, the tranquility of its waters, the depth close to the coast and a large number fishes that serve as food, great variety of cetacean species reside in the Canary Islands.
Although it is unusual to see whales in Lanzarote, since they usually spend a short time on the surface, on boat excursions you will be able to see a large number of dolphins.
Of the more than 30 species of cetaceans that we can find in the Canary Islands, the ones that we will find most frequently throughout the year are the bottlenose dolphin (Tursiops truncatus), the spotted dolphin (Stenella frontalis) and the topical pilot whale (Globicephala macrirhynchus).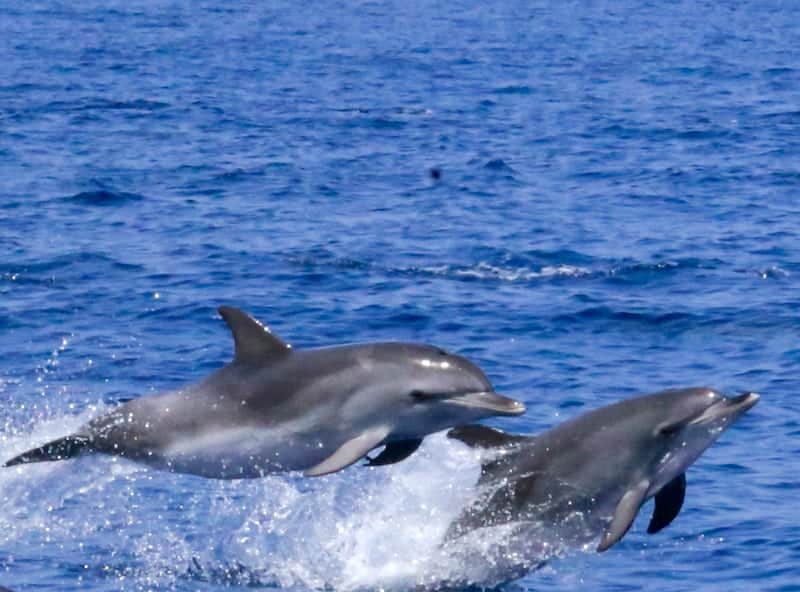 28.- Watch a sunset from the sea
Grasp the sunset and enjoy a pleasant boat trip on which you can relax in a unique environment, seeing the sun set on the horizon. This may be the most romantic experience that you can share with your partner in Lanzarote.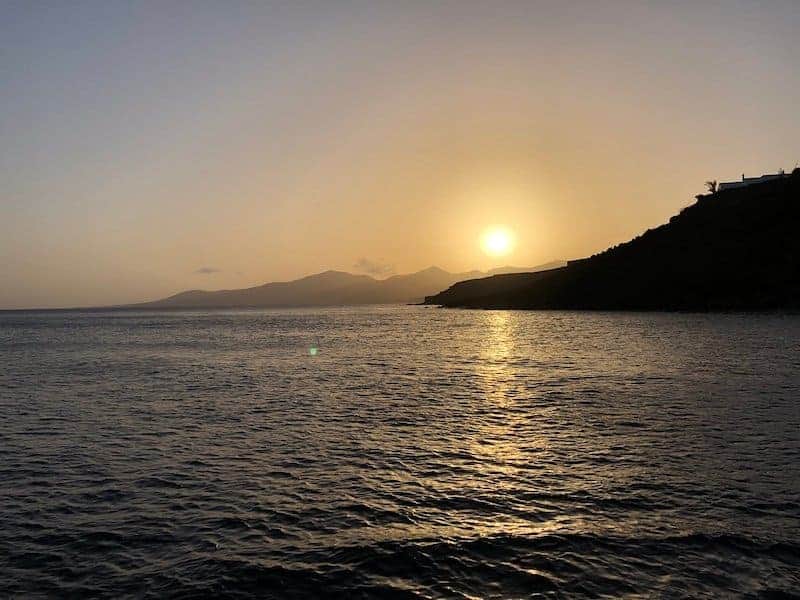 29.- Travel in a submarine at a depth of 25 meters 
Immerse in a submarine that will take you 25 meters deep and live an unforgettable experience observing the innumerable fish that will accompany us on this adventure.
The submarine is designed with comfort and safety in mind. It is 18.5 meters long, 4 meters wide, and 6.5 meters high, and has a capacity of 48 passengers plus crew members. The submarine is powered by environmentally-friendly electric motors and equipped with redundant safety systems and a surface control boat for added security.
With large portholes and TV monitors connected to video cameras outside the submarine, you can observe the underwater world in detail.
Discover an authentic wreck, the Tenderete, an original tuna boat sunken 30 metres deep. This 30-metre-long fishing boat with a steel hull serves as a reminder of the island's fishing activity.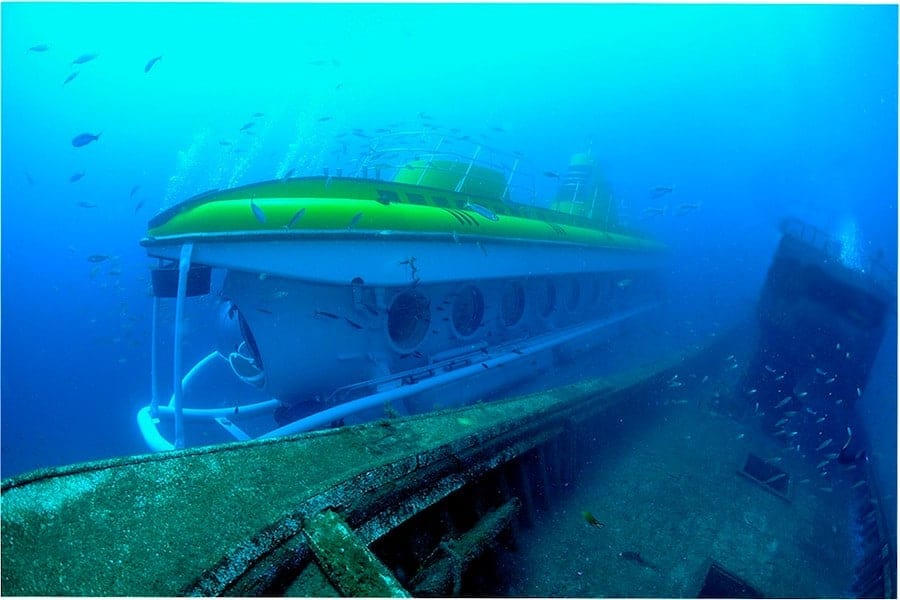 Active Tourism – Adventure activities
These are some of the best activities to discover Lanzarote while having fun.
30.- Get to know the island by hiking
Hiking is one of the healthiest ways to get to know some of the most spectacular corners and places in Lanzarote. On some of our hiking tours, you won't only see volcanoes, you'll also walk in a crater.
You won't have to worry about anything, since transportation, snacks, water, and a knowledgeable tour guide are all included in the price. The guides will also provide you with complete information on the most interesting spots of the route, both historical and cultural, and give you advice at all times so that you can easily overcome any obstacles.
Choose between the different routes proposed and enjoy some of the most beautiful landscapes of the island of volcanoes.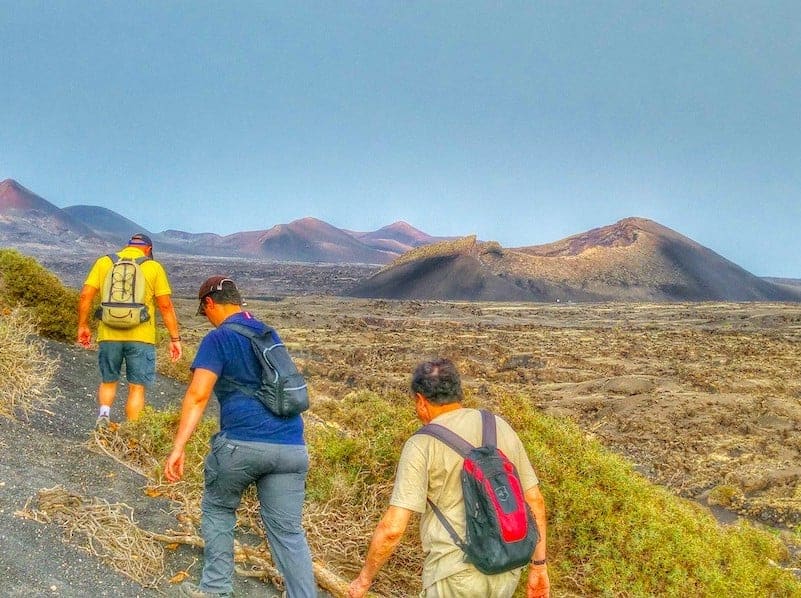 31.- Have fun on a jet ski
Driving a jet ski is probably the most fun activity you can do on the island. Choose if you want to take a jet ski tour along the coast or if you prefer to rent a jet ski and drive around a buoy circuit. 
The jet ski tours are done on the southeast coast of Lanzarote and can last between 20 minutes to 2 hours. On these tours, in addition to having fun driving the jet ski, you'll also enjoy the coastal landscape, and see some of the most beautiful ravines, tourist resorts and beaches in this part of the island. The jet skis tours are always done with a guide, and you'll need to book the departure time and duration of the tour.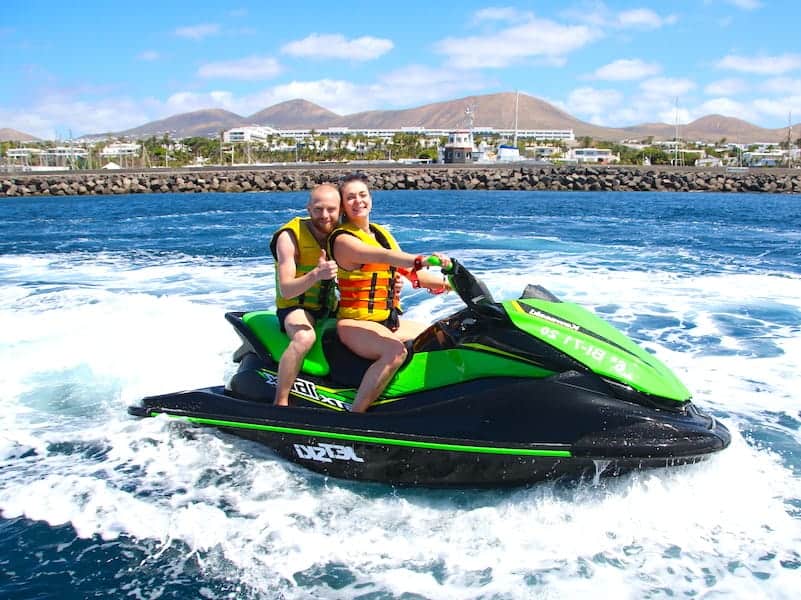 32.- Discover the coast on a Kayak tour
Whether you're a beginner or an expert kayaker, you can take kayak tours along the coast to see cliffs, beaches or even visit a cave while doing some exercise.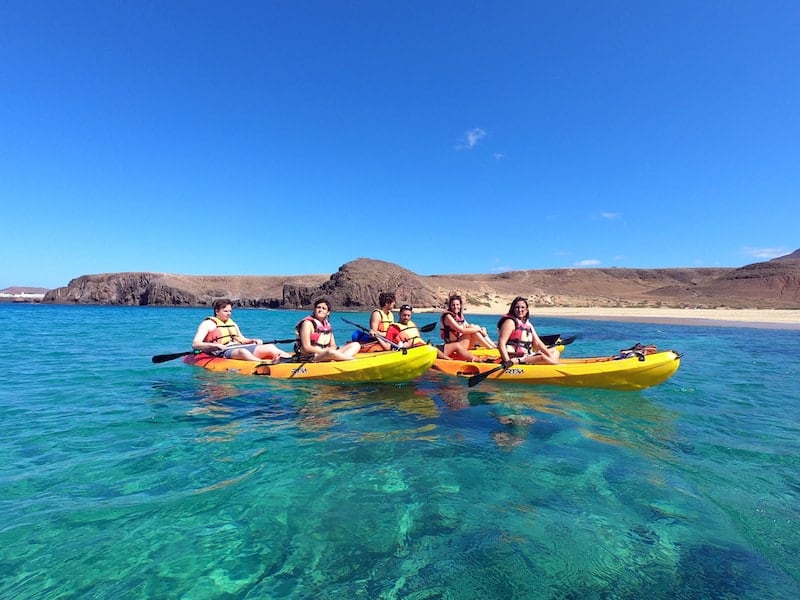 33.- Enjoy doing buggy tours 
Buggy tours are ideal to have fun driving a buggy while you discover some of the most beautiful spots on the island. Choose between dirt or asphalt road tours and enjoy one of our best-rated activities.
Select the type of buggy you want to drive, manual or automatic, and the number of people with whom you'll go. Two-seater buggies can accommodate 1 or 2 people, while each vintage buggy can accommodate 1 to 4 people. Children under the age of 8 cannot ride in two-seater buggies, while families with small children can go in a vintage buggy.
Note that the experience differs on the vintage buggy routes, driving is more relaxed and calmer, and the objectives of the tours are more cultural and didactic. On these tours we'll visit some of the most representative sites on the island, we'll learn some Canarian traditions and taste typical Canarian dishes. The two-seater buggy routes, however, aim for more fun while driving and traveling on the different types of roads.
Drivers must meet the following requirements:
Have at least 2 years of experience with their driver's license.
Bring an identity card or passport.
Bring the original and valid driver's license. If you don't have a physical card, check with us to verify if you can bring the digital card some governments issue.
Wear closed-toe shoes to be able to drive.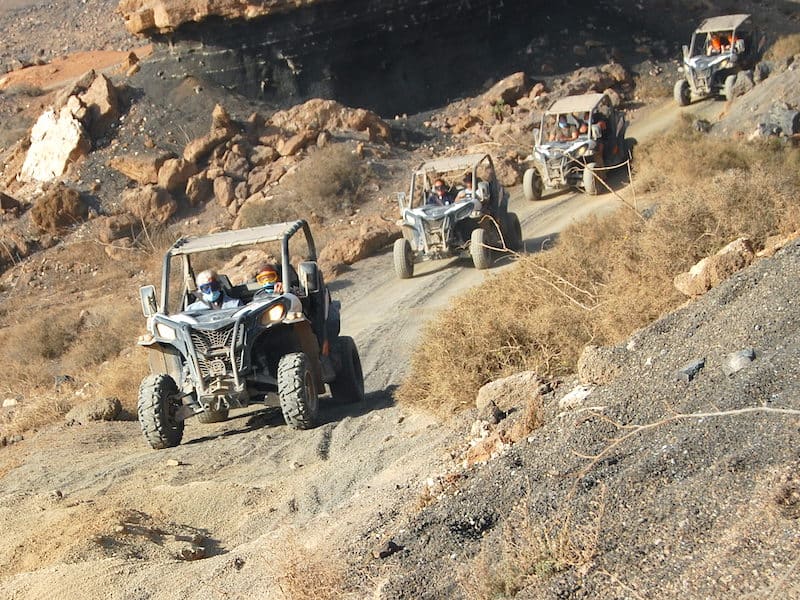 34.- Fly 70 meters high doing parasailing
The parasailing flights that you can do alone or accompanied by one or 2 people in one of the most unforgettable experiences of your stay in Lanzarote are both relaxing and exciting.