What to do in Puerto del Carmen
Enjoy your holidays in Lanzarote and find out things to do in Puerto del Carmen.
A palm tree fringed beach and a volcanic landscape is a sight worth staring at. Lanzarote provides that perfect combination for public. Who does not want to visit a place that is soothing and adventurous at the same time? People belonging to varying interests and age groups can find activities which suits their requirements the best way. But before choosing the trip to Lanzarote, some things need to be addressed which includes the confusion of what to do in Lanzarote. Puerto del Carmen is among the popular resorts of Lanzarote. A variety of activities and tours in Puerto del Carmen are available and can be pursued by people in accordance with their tastes, some of them are mentioned below:
Top Things to do in Puerto del Carmen
1.- Spending time on the beaches
The resort is enormous and that makes it a spot for having more than a single beach. The biggest one of these beaches is known as the Playa Grande which is famous for the golden sand of its shore and the clear water of the sea. People visiting this beach get the chance of experiencing the magnificent view from the hills. There are no big blowing winds to create massive waves, the water is calm and hence makes it perfect for swimming or simply taking a sun bask on the shore. One side of the beach provides a perfect view for witnessing the sunset views whereas the other side provides a vast variety of vendors selling goods and restaurants offering foods. Apart from this grand beach, Playa Chica is the smaller one which is situated between the old harbor and the Playa Grande. Its sheltered by rocks and provides a different view for visitors who want to experience something new.

2.- Visit to Timanfaya National Park – Fire Mountains
The tour is not complete unless a person visits the most famous attraction of the Lanzarote, which is situated as the Timanfaya National Park. It's the symbol that represents the beauty of this region. The volcano trip from Puerto del Carmen is based on the part of volcanic eruptions covered by Timanfaya National Park which provides a landscape where the most important eruptions happened and are thus called as the Fire Mountains. There is a unique climate of the island which has made it possible for the landscape to remain in a position as it was before, completely unaltered. Therefore, this region is a superb source of studying and researching on the process of colonization which occurs within the flora and fauna of this particular area.

3.- Visit Los Jameos del Agua
A perfect combination of volcanoes exists with the surrounding earthy environment. Jameos del Agua tour provides an exotic trip where the visitors are allowed to experience how volcanoes coincide perfectly with the art. A perfect image of art and nature is represented by this region. It's a volcanic tube that has been improved by the great artist César Manrique. It ends at the onset of Jameo Chico where Túnel de la Atlántida is situated and serves as a habitat of many species. An interesting spot also lies there named as the La Cazuela, which can be visualized by the visitors from an auditorium. The entrance to it is only allowed for specific events, but the waterfalls inside and the calm environment is a natural beauty which is protected at its best.

4.- Ride on a camel in Timanfaya National Park
Who does not like to ride a camel while moving through a route, enjoying the feel of a vintage touch where they are also able to see the beauties of nature present around them? It's possible for the people who visit Lanzarote to volunteer for a Timanfaya camel ride and experience this joyful adventure. The ride around the park takes about 20 minutes and is by far the best way to experience the nature of this region. It makes it remember able for everyone.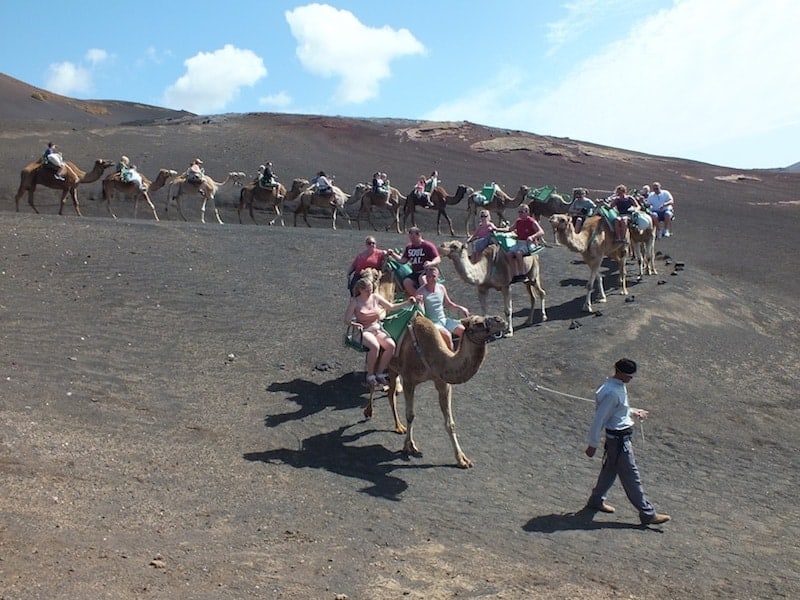 It's delightful to know that the site of which people take the most photographs is "Echadero de Camellos", which is situated next to Timanfaya and is the place where these camels reside. Camels are chosen because of their traits that make them adaptive to this surrounding and are quite peaceful creatures to deal with. Children are safe when it comes to these camel rides. The animals that were once a part of transport are now the partners in tourism. Although the world has shifted towards vehicles but it's a great way to have fun!
5.- Visit the Green Cave
Cueva de los Verdes more commonly called as the Green Cave of Lanzarote is among the top attractions of this region. It is situated within the tube which was formed by the molten lava thousands of years ago. Lights have been set up along the whole way to increase the joyfulness of the Green Cave tour. In contrast to the Jameos del Agua, there is only one Jameo within this Green cave. It makes it accessible for the public through which they can enter and exit. It is situated under the ground surface and when visitors start to explore it, it takes up to 2 km to complete it.

6.- Visit the Green Lagoon
A pond that's green in color is a delightful sight to watch and stare at. The distinct green color of this Green lagoon within Lanzarote is due to the green algae which reside within this water body. What makes it so special? That's a real question. It's attractive because of its color that contrasts perfectly with the surroundings that are blackish in color and the blues of the sky above it.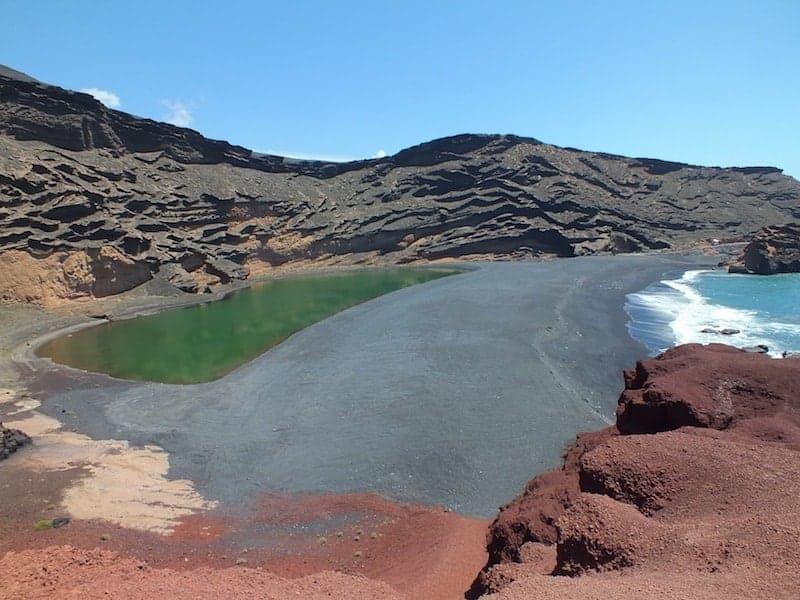 A
Green Lake tour can make it possible for somebody to stare at it and grasp the serenity of its calm and peaceful atmosphere. The history of this green lake tells that they were named after a shellfish that used to live inside until turtles inhabited this area and ate them all up; the local name of this green lake is Los Clicos Lagoon.
7.- Enjoy Boat trips
Several Puerto del Carmen boat trips can be enjoyed which includes the boat trips to La Graciosa island. The only way to reach this beautiful place is through the ferries that depart after every half an hour from Lanzarote. It's a small island which is popular for its unspoiled natural beauty that serves as an ideal spot for vacations.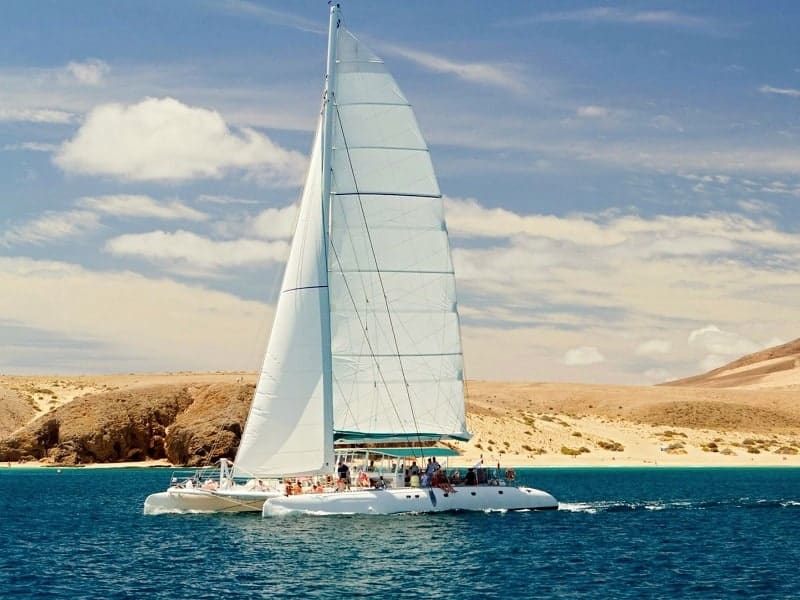 Apart from this island, there is another spot named as the Isla de Lobos which is a famous for the dolphins that could be seen in the Atlantic Ocean while enjoying the boat trip. It's a charming place to visit as it's not just a habitat of marine organisms but also famous for the sea lions that are now under the category of endangered species. Papagayo beach or a sunset tour could be made by a boat just as to witness the white sand around the bay shaped beach of Papagayo with its water as still as ripples can be made by throwing a stone in it.
8.- A walk towards Old Harbour
Originally a small village; Puerto del Carmen itself along with the Old Harbour is a great place for a walk. If somebody starts to walk from Playa Chica, they are able to witness the calmness of the sea along with the warmness of the daylight. People usually fish and varying restaurants are available round the corner of this coastal path offering food and services for adults as well as children. All of it makes it a great place for boasting some excellent bars, restaurants and excursions running out of the harbor.
9.- Lanzarote to Fuerteventura day trip
Fuerteventura has various attractive spots like the Morro Jable, Oasis Park and the Sotavento Beach which can be admired by taking Puerto del Carmen to Fuerteventura day trip. It's a jaw dropping beauty for its admirers as it allows the visitors to dig deeper into the history of this place due to the white washed bell towers present here along with the crystal clear water of the ocean.

10.- Rancho Texas
The Water Ranch is known as the Corral del Agua and provides an enormously big portion of water for all sorts of activities. Its suitable not just for adults but for children also. It's a zoo that has an area of water pools within. The park also provides a drink corner where individuals can enjoy sipping their favorite drinks while they watch the water splashes around them.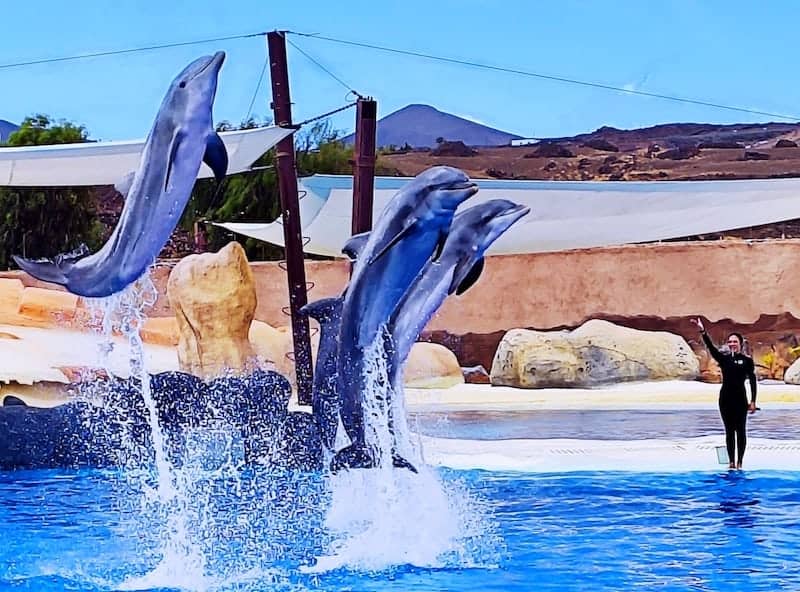 A trip to this zoo can be unforgettable as it allows encountering with the wild animals including white tigers, raccoons, snakes, bison, exotic birds, pot-bellied pigs, donkeys, horses, armadillo, cougars, deer, goats, rabbits, raccoons, skunks, and many more which live in recreated installations and spaces adapted to their natural habitat as well as enjoying various shows like the Lanzarote dolphin show, bird of prey show, and the sea lions as well as the slides and water park. It's not just a place that provides a swimming pool but also a chanting zoo and a snacking place; all coexisting in perfect balance with each other.
Who would not want to enjoy their vacation at a place like Puerto del Carmen that not just simply provides a basking beach or a boating region, but also a calm sea that supports swimming, a snack and drinking corner with the spectacular naturally built resorts around the area due to volcanic eruptions providing a variety of activities which could serve any individual belonging to any age group or interests!