Tours that go through the Salinas de Janubio
The Janubio Salt Mine is an essential place to visit and one of the Lanzarote tourist attractions for a variety of reasons.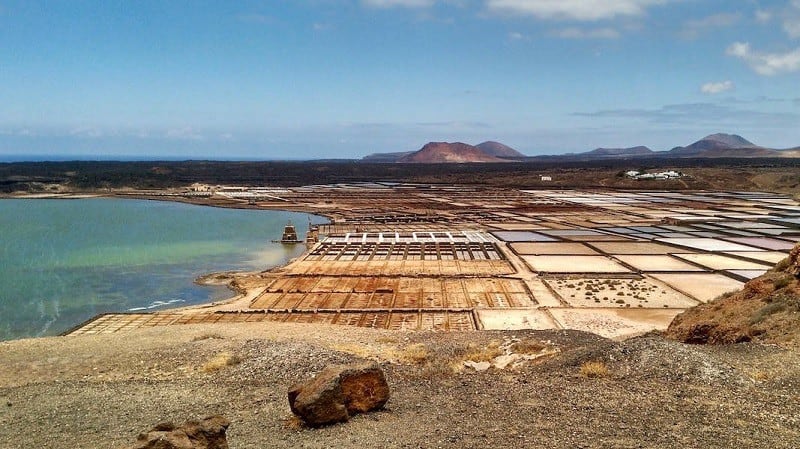 The first reason is its location in the south-eastern area of the island, very close to tourist areas. In the day trips from Playa Blanca you can also also do a Timanfaya Natiaonal Park excursion and visit other places as attractive as Los Hervidores (The Hot Springs) or the Laguna Verde (Green Lake). Therefore, many of the excursions in Lanzarote pass through this part of the island, where the salt mine is a showcased stop.
The visit to the Janubio Salt Mine also means discovering a landscape different from the other areas of Lanzarote. Here you can see more than 400,000 square metres of salt formations, all of which surrounds a large central lake that is the main character of most of this immense territory, otherwise dominated by the white salt and the intense reflections of the sun. However, the view of this place, which is full of traditions, colours, architectural heritage and the sea, is undeniably photogenic.
It's surprising to learn that this place could be so old, but the mine has been exploited since 1895.
Clearly in the beginning, salt was extracted in order to complement Lanzarote's great source of wealth: fishing. The salt mine is linked to the canning industry, salted fish and the brining technique. Thus, during peak production, up to 10,000 tons of salt can be extracted from this place each year.
But today that production has diminished to one-fifth, since there are other, more modern preservation techniques now. However, the salt from Janubio continues to be popular and of high quality. Plus, it is still extracted by hand, which is why it has a Designation of Origin seal.