Excursions to visit Hot Springs (Los Hervideros)
Los Hervideros (The Hot Springs), located in southeast Lanzarote and within the municipality of Yaiza, is a clear example of the volcanic origin of this entire island. In fact, to the very shores of the Atlantic Ocean, this enclave is practically united with Parque Nacional de Timanfaya, which is undoubtedly the great icon of volcanic activity on Lanzarote. A Timanfaya volcano excursion is a great complement to Los Hervideros, in order to see the other aspect of volcanic activity that also involves the sea.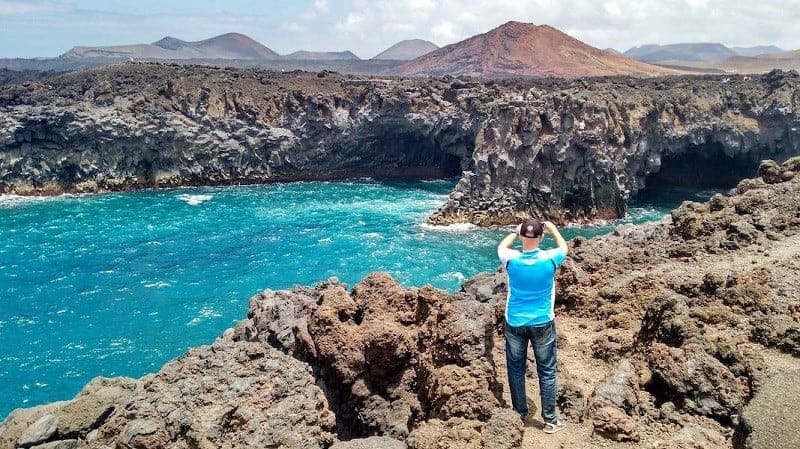 Los Hervideros occupy a part of the coast that was formed after thousands of years of accumulated lava, brought up from the eruptions of nearby volcanos.
That lava arrived at the Atlantic Ocean at extremely high temperatures, and over the course of time and progressive col, it was transformed into a rocky but completely solid landscape. During that process, the ocean waters and the gas from the volcanic magma generated bubbles and underground tubes.
Those bubbles and tubes have become cavities and holes through which the ocean waves are filtered, sometimes so strongly that the water runs through the entire underground system and appears on the surface of the island, considerably far from the sea. And obviously that water is boiling from the volcanic heat as it pours forth, hence the name of this scenic tourist spot.
In reality, what is seen at Los Hervideros is the tremendous strength of nature that can sometimes be truly dangerous for people. Therefore, a lookout has been constructed in order to view this phenomenon in a safe way, avoiding unpleasant accidents, since we're talking about a place where the rugged footing is quite rough, and then we have to factor in the strength of the wave, coming from a point along the coast where the waves are usually quite strong.
Check all the things to do in Lanzarote and all the excursions and plan your best holidays in the island.