What to do in Costa Teguise Lanzarote?
Discover what to do in Costa Teguise during your holidays in Lanzarote. We present some of the activities that can be done in Costa Teguise, either because they're located in this tourist area or because most activities include a pick-up service in Costa Teguise. We also offer some of the most interesting sites on the island, which you can access on your own or through the many tours organized in Lanzarote.
What to do in Costa Teguise and its surroundings
1.- Pueblo Marinero 
Combine nightlife, shopping and eating out in this space created by Cesar Manrique and located near Cucharas Beach. Pueblo Marinero is a commercial space designed as a typical island town, where you can find bars, restaurants and pubs that are particularly crowded in the afternoon and evening.
2.-Cucharas Beach
Enjoy a beach day at Cucharas Beach, the best-known beach in Costa Teguise. With white sand and just over 500 meters in length, it's ideal to enjoy some time with the family and practice water activities.
Outside of Costa Teguise, the most popular beaches in Lanzarote are Papagayo and Famara Beach.
3.- Aquapark Water Park
This water park is a few kilometers from Costa Teguise, where fun is guaranteed when you slide down its various slides.
4.- Lanzarote Aquarium
On this visit, discover a large aquarium, or rather, 33 aquariums where you'll find fish from all over the world and particularly from the Canary Islands.
Places to see and visit in Lanzarote from Costa Teguise
5.- Timanfaya National Park
On any tour to Timanfaya you'll discover Lanzarote's amazing landscapes, the island's great claim and, without a doubt, a place you have to visit when traveling to Lanzarote.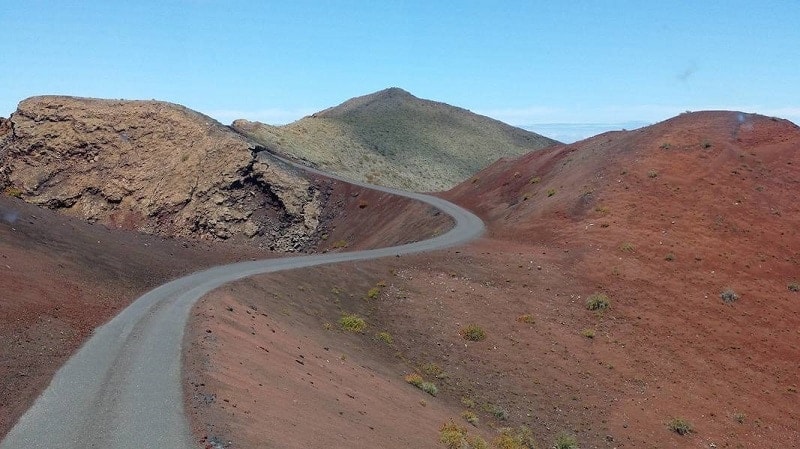 In its more than 51 square km of volcanic surface you'll see more than 25 active volcanoes, although the last eruption happened in 1824.
In fact, in a place known as Islote de Hilario, you'll be able to see this place's volcanic activity through various experiments, and how, at just 13 meters deep, the temperature reaches 600 degrees.
6.- Jameos del Agua
The Jameos del Agua tour takes us to the second most visited place in Lanzarote, located behind Timanfaya. In this space created by the artist Cesar Manrique, art and nature blend harmoniously in a tube section from the Corona Volcano.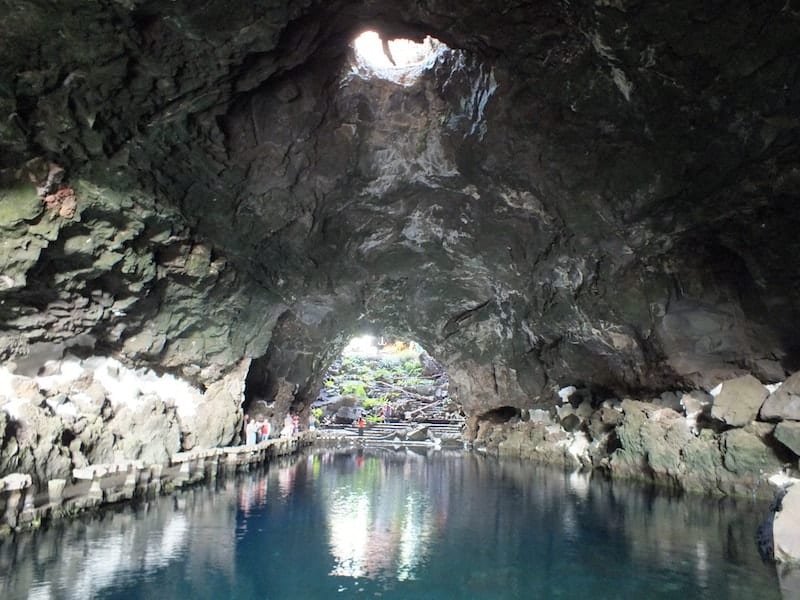 Considered an Asset of Cultural Interest, in the Jameos we can find a small underground lake, a swimming pool on top, and a concert and exhibition hall.
7.- Cueva de los Verdes (Green Cave)
On the Cueva de los Verdes tour, we'll visit a section of a volcanic tube, like the Jameos del Agua, created by the eruption of the Corona Volcano, which happened thousands of years ago.
The visit to the Cave will take us through some of its huge galleries, which are interconnected and located at various depths. Our walk through these cavities, which reach an altitude of 50 meters, is approximately 1 km long. You cannot leave without discovering the great secret of the Green Cave, which shall only be revealed once you are there.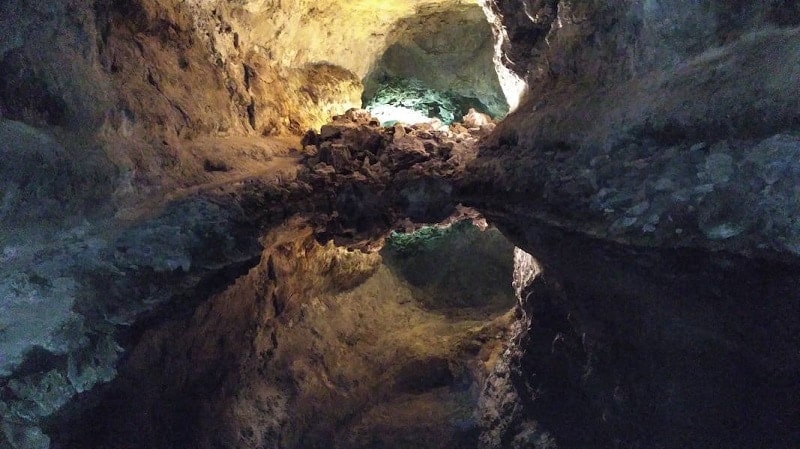 This visit is not suitable for people with reduced mobility or for those who suffer from claustrophobia.
8.- Laguna Verde (Green Lagoon)
The Laguna Verde, also known as Lago Verde or Charco de los Clicos, is also of volcanic origin. Located in the town of El Golfo, this green lagoon contrasts with the gray-brown color of the volcanic terrain that surrounds it, as well as the blue sea located a few meters from the lagoon.
9.- Mirador del Río, Lagomar, Monument to the Farmer, Cactus Garden and Cesar Manrique House Museum.
The fusion of nature and art can be seen in many sites in Lanzarote thanks to the creations of the brilliant Lanzarote artist Cesar Manrique. The Jameos del Agua, Mirador del Río, Lagomar house, Cactus Garden, the abstract Monument to the Farmer or the House Museum where he lived are worth the visit, to see beautiful places transformed by the genius of Cesar Manrique.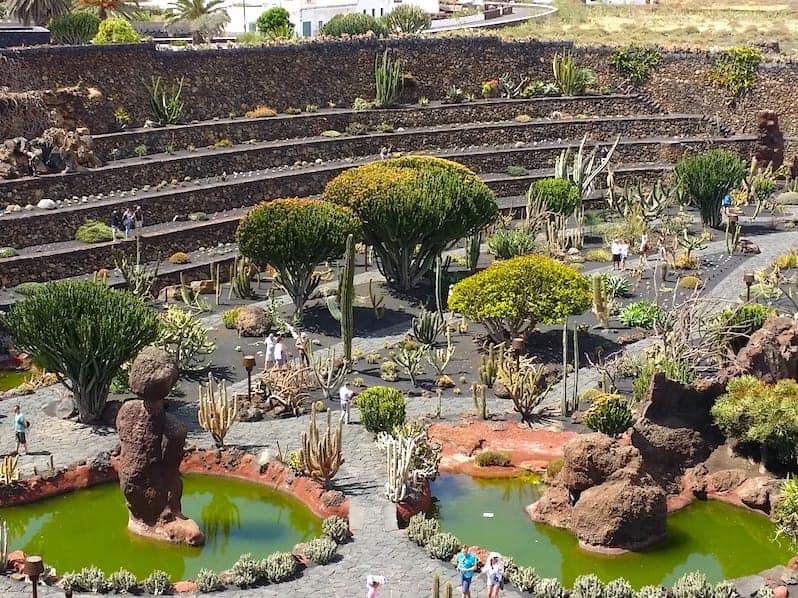 10.- La Geria
La Geria is the wine-growing region of Lanzarote, where the vines that provide the grapes used to make the wines with the Lanzarote Denomination of Origin are grown. Discover the curious way in which vines are cultivated in this volcanic area, protected from the wind by volcanic rocks.
11.- Los Hervideros
Los Hervideros (boiling pots) are enormous cavities that were opened in the lava and through which the sea filters, forming large water jets when there are strong waves.
Activities to do in Costa Teguise
You can basically do every activity offered in Lanzarote from Costa Teguise since almost all of them have collection points in Costa Teguise.
12.- Camel riding
A camel ride through the Timanfaya National Park is one of the most demanded activities for couples, friends and families with children. Many of the tours offered include camel riding in Timanfaya.
13.- Boat tour
Enjoy pleasant boat trips in Lanzarote from Costa Teguise, or rather, with a pick-up service in Costa Teguise. Visit Papagayo Beach on a catamaran, take a boat ride to see dolphins, watch the sunset from a boat or visit one of the nearby islands.
14.- Jet skis
Driving a jet ski is perhaps the most enjoyable water activity you can do in Lanzarote. We suggest renting a jet ski or taking a tour of different places on the coast.
15.- Hiking
If you prefer walking, we offer several organized hiking routes so that you can get to know some of the most beautiful and spectacular landscapes on the island.
16.- Drive a buggy
If you like adventure, exploring the island and enjoy driving a buggy, buggy tours in Lanzarote are ideal for you. Choose between tours in two-seater buggies with routes that are practically done on dirt roads or a vintage buggy route so you can enjoy a quieter adventure with the family while getting to know the island.
17.- Kayak tour
Those who love exercise and the sea will be able to enjoy a kayak tour along the Lanzarote coast. Don't worry if you haven't done kayaking before as there are tours for beginners and experts.
18.- Scuba diving and discovering the depths of Lanzarote
We offer several experiences to discover the depths of the Lanzarote coast. The most comfortable is, without a doubt, a trip in a submarine that goes to a depth of more than 20 meters. But you can also snorkel, sea trek or take a short diving course to reach great depths.
19.- Explore other islands
From Costa Teguise you can take day tours to the nearest islands such as the day trip to Fuerteventura, a trip to La Graciosa or the tour to Lobos Island. The boat trip to these islands takes approximately 30 minutes and you'll have enough time to see its most outstanding points.
20.- Tours in Costa Teguise
Discover Lanzarote through the various tours to do on Costa Teguise in a single day. Organized excursions to the most emblematic sites and the island's not-so-famous treasures.