Excursion to Timanfaya – mornings
On this excursion, discover the Timanfaya National Park, Lanzarote's great tourist attraction. Visit Timanfaya in a single morning, in the free time you usually have between breakfast and lunch, that way you won't miss your hotel meals. Because of the short duration of the tour, this excursion is the favorite for parents with young children.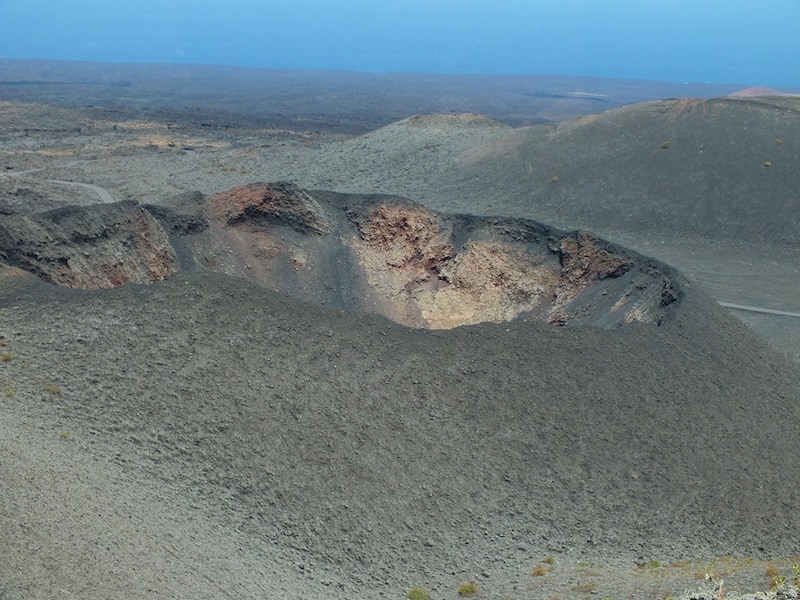 Avoid the long access queues to the park that you may encounter if you come on your own, and visit Timanfaya comfortably, accompanied by an official guide and in a modern bus that will pick you up at your hotel or close to it.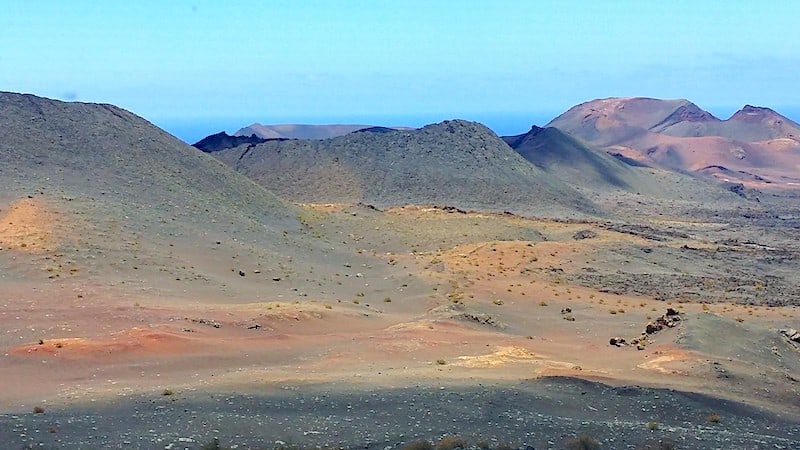 Visit the Park's Volcano Route on that same excursion bus. If you visited the park on your own, you'd have to queue to catch the Park bus to visit the Volcano route, since you're not allowed to do so in your own vehicle.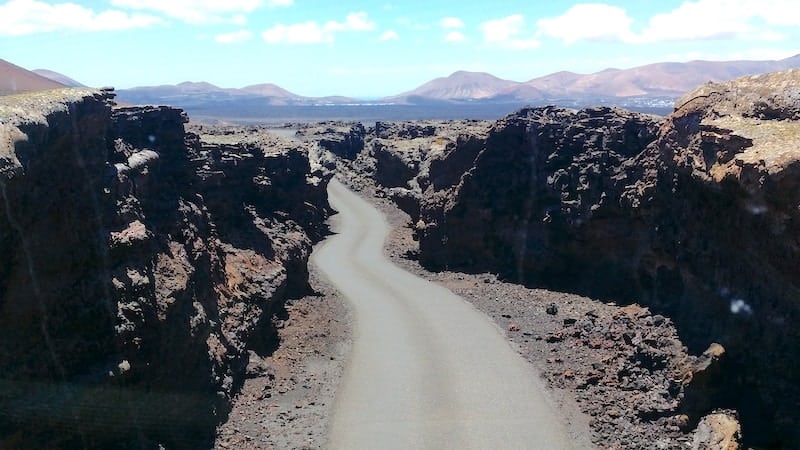 And if you're interested in the camel riding experience, don't worry, we'll also stop in that area of ​​the park so you can do it.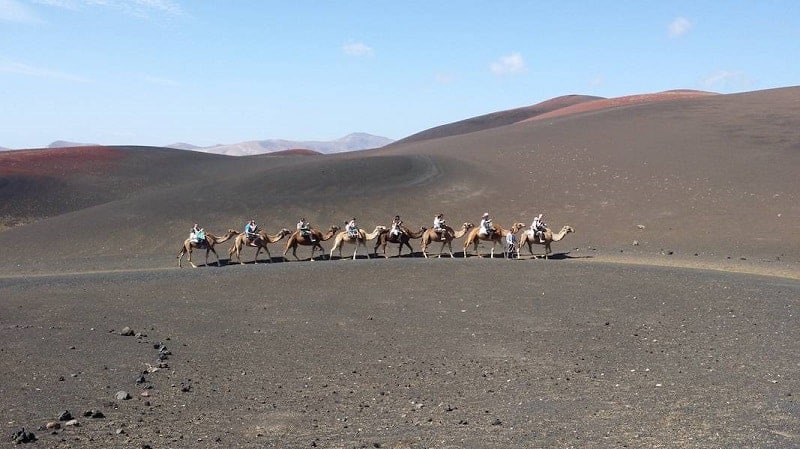 The Timanfaya tour actually starts with our first stop in the park, in an area known as the Hilario islet, where we'll enjoy some magnificent views of this impressive volcanic landscape.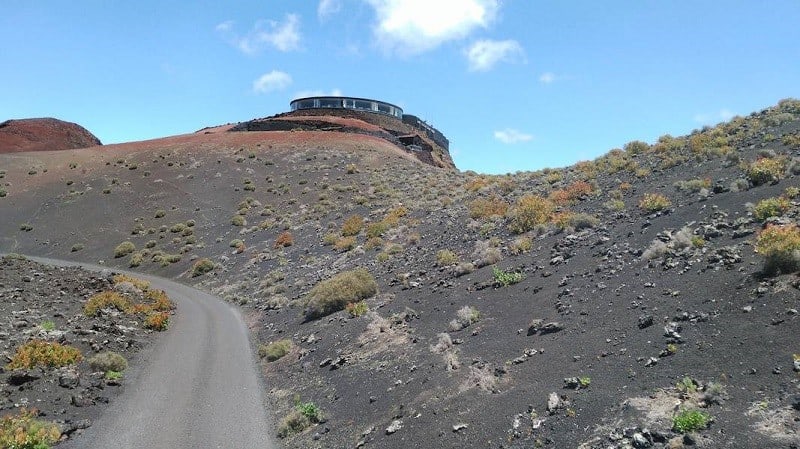 From here, we'll also be able to see around 25 volcanoes, all of them active, located around the Park's more than 50 square kilometers. It's hard to believe that the park as we see it today is the result of the volcanic processes that took place between 1730 and 1736 and later in 1824, which is when the last eruptions happened.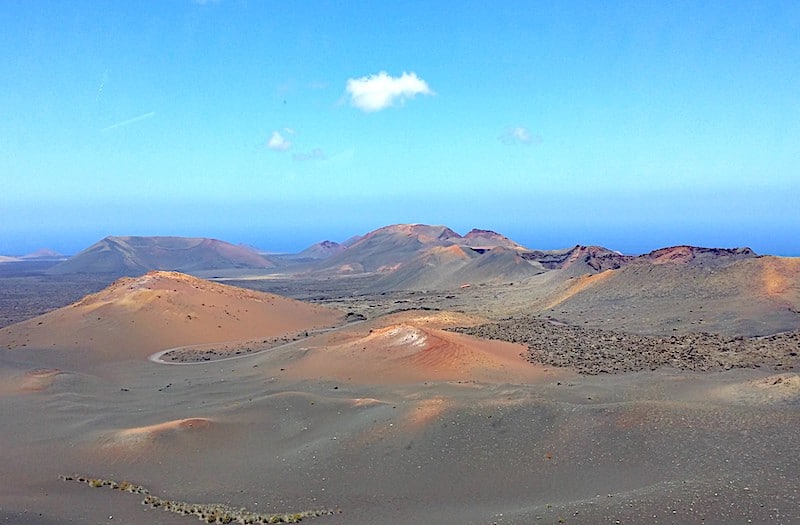 And so you can verify the latent volcanic activity for yourself, and notice that a few meters down the temperature exceeds 600 degrees Celsius in the area, we'll propose three experiments.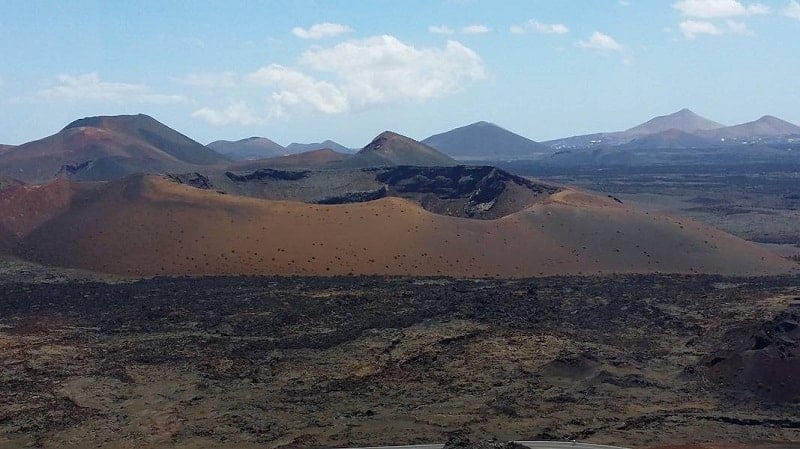 In the first one, you'll be able to touch some hot stones which we'll pick a few centimeters from the surface. In the second, you'll see how tinder catches fire when we put it in a one-meter-deep hole.
In the third experiment we'll see how a geyser forms when we introduce water into 10-meters-deep tubes, which will then ascend within a few seconds at high very speeds.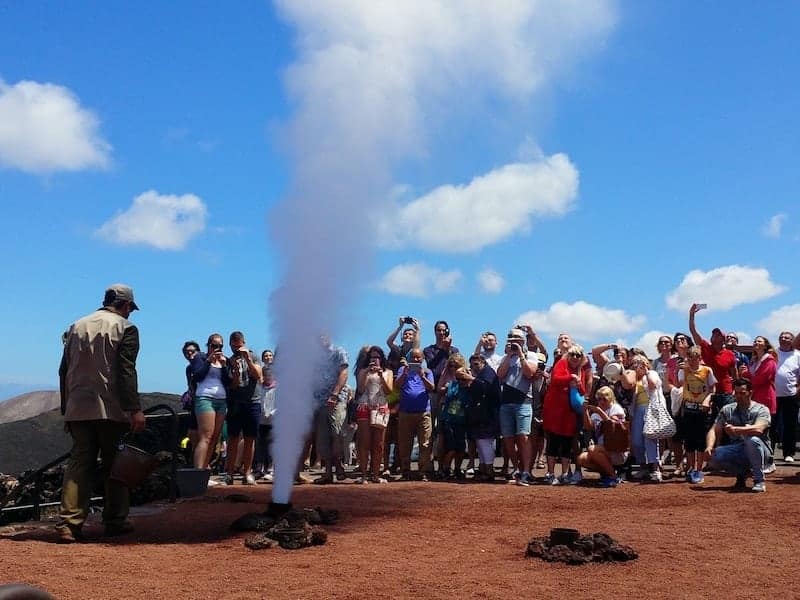 Close to the experiment area, we'll find the Mirador del Diablo restaurant, designed by the brilliant César Manrique. Here we'll also be able to see meats and other foods being roasted on its huge barbecue, which takes advantage of the heat that emanates from its 7 meters depth.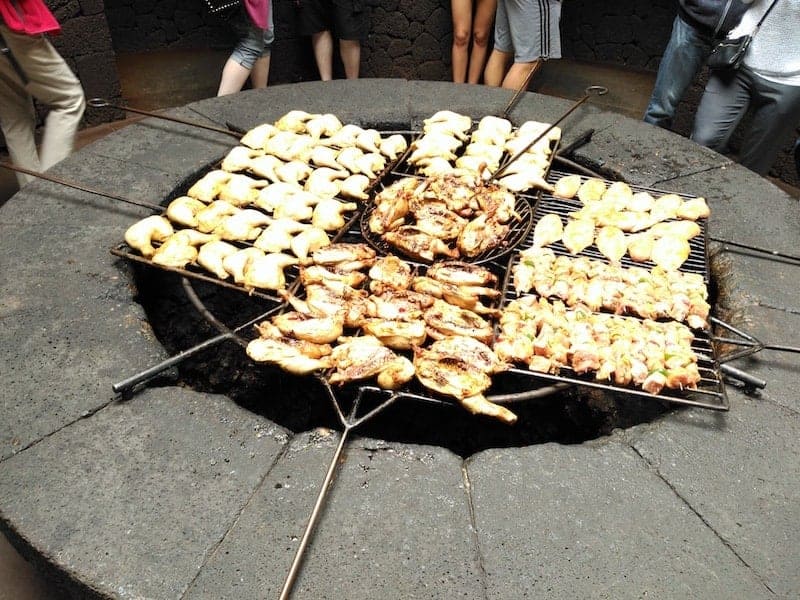 During our visit to the Park, we'll travel, in our own bus, through the Volcano Route. In this 14 km route, we'll see craters, lava rivers, capriciously shaped rocks and other compositions made with amazing natural colors up close, as these are all part of this place's landscape, known as the Mountains of Fire.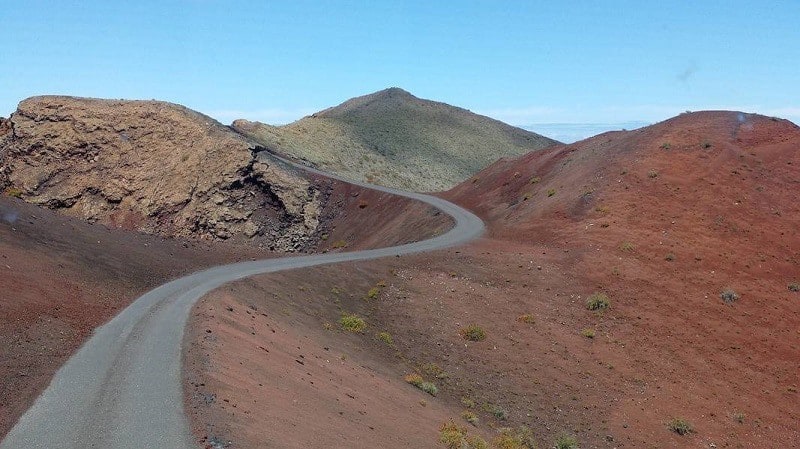 Before leaving Timanfaya Park, we'll make one last stop for a 20-minute camel ride. Camel riding is optional and costs around 6 euros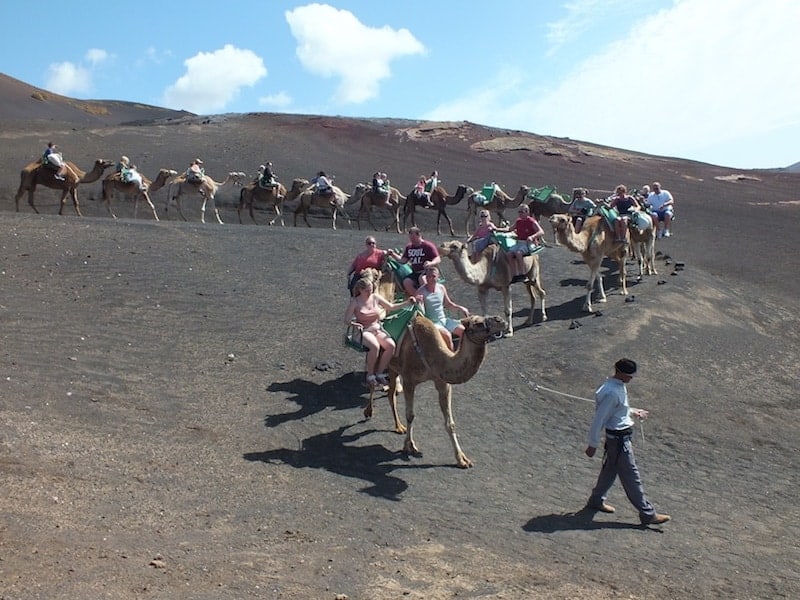 We hope that, by the end of this excursion to Timanfaya, and upon returning to your accommodation, you'll leave feeling like you've just been in a magical and unique place, and we also hope that this will be a place you'll remember fondly when you reminisce about your holidays in Lanzarote.
What time is pick-up and drop-off?
Upon reservation, you'll find the exact information about the closest pick-up point and time to your accommodation.
In any case, you can find the approximate pick-up and return times here from the various tourist areas:
| | | |
| --- | --- | --- |
| Area | Pick up time | Return time |
| Arrecife | 09:10-09:15 | 14:00 |
| Costa Teguise | 08:45-09:05 | 14:00-14:15 |
| Playa Blanca | 09:20-10:05 | 13:30-14:00 |
| Playa Honda | 09:15 |   |
| Puerto Calero | 09:50-09:55 | 13:30 |
| Puerto del Carmen | 09:25-09:50 | 13:30-13:45 |
*Return times are approximate under normal conditions.
How much will it be between being picked up and when the tour starts?
Faced with the option of creating a single meeting point for our convenience or of defining several collection points so you can be picked up at your accommodation or close to it, we have chosen to offer the second option for your convenience. The service is slower, but it will be much more comfortable.
It should be considered that the areas further away from the starting point of the tour are normally the first pick-up areas and the last ones to be dropped off.
What is the maximum weight per person to ride on the camels?
The maximum weight to ride on the camel is 110 kilos. 
How long does the ride last and how much does it cost?
The camel tour lasts around 20 minutes and the price is around 6 euros per person. Since this activity is optional you can decide, once you are at the camel place, if you want to ride.
What Covid measures apply to the tour?
Covid measures are applied at all times in accordance with the regulations imposed by the Canary Islands Government.
There may be restrictions on the number of passengers on the bus, the number of people who can enter the Lanzarote Art and Culture Centers, or the restaurants may require a Covid certificate.
In any case, the excursion will be done while following the current measures and restrictions.
How is the reservation payment made?
If there are less than 5 people, an amount will have to be paid as a guarantee when making the reservation and the rest will be given to the guide, in cash, when boarding the bus.
If there are more than 5 people, the entire reservation will have to be paid when booking.
How can I pay for the reservation?
Reservations can be paid by credit or debit card or through PayPal
What happens if I get an error message when booking?
Occasionally there may be a problem with your credit card or PayPal account. Please try to reserve again if an error appears, try with another browser or device.
If the reservation is still not completed correctly, contact us through our customer service channels.
How will I know that the reservation was made correctly?
At the end of the reservation, a locator or reservation number will appear and, in less than 5 minutes, you should receive the booking voucher in your email inbox.
What happens if I have not received the reservation voucher?
If you haven't received an email in your inbox, follow this procedure:
Check your spam or junk mailbox.
Contact us.
How long in advance should we book?
We always recommend booking as far in advance as possible since places are limited, and you could miss out on the excursion.
What happens if, when booking, there are no more places for the day I want to go on the excursion?
If you notice that you're trying to book in a day shaded orange, that's because there are no more places left. Try to book for another day or click on that day and fill in the form to add yourself to our waiting list in case there's a cancellation. In more than 50% of the cases we usually find a solution.
How many stops does the tour make?
We make quite a few stops to see the places we've planned to visit and others to go to the bathroom from time to time.
How will the babies go on the bus?
Babies don't have to pay for this excursion and will go on their parents' lap.