Lanzarote excursion to Timanfaya National Park, Los Hervideros, la Geria, the Green Lagoon and the Salinas 
On this excursion through southern Lanzarote, discover the island's beautiful volcanic landscape by visiting Timanfaya National Park and other equally surprising places.
Our first stop will be in the town of Yaiza, where we may eat breakfast or take photos in this small village before continuing with the excursion. In this town, located in the island's interior, you can see the traditional architecture of Lanzarote in the facades of its houses, which are painted white with green doors and windows.


Our next stop will be inside Timanfaya National Park, where you will have the opportunity to experience one of the most popular activities on the island: camel riding. In fact, more than 500,000 people enjoy this activity every year in Lanzarote and, although it is optional, it is well worth a try. The camel ride costs about 6 euros and lasts about 20 minutes.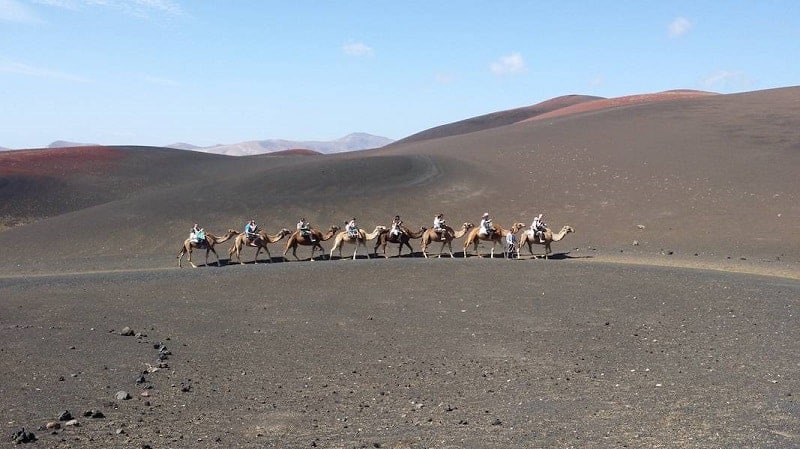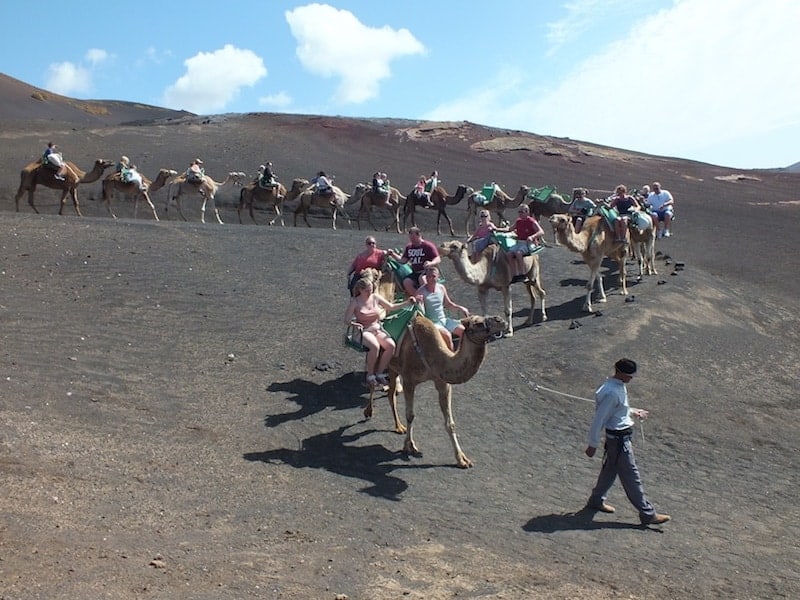 In Timanfaya National Park, we will contemplate a truly spectacular volcanic landscape. This beautiful and suggestive scenery will be one of the most enduring memories you'll have of Lanzarote.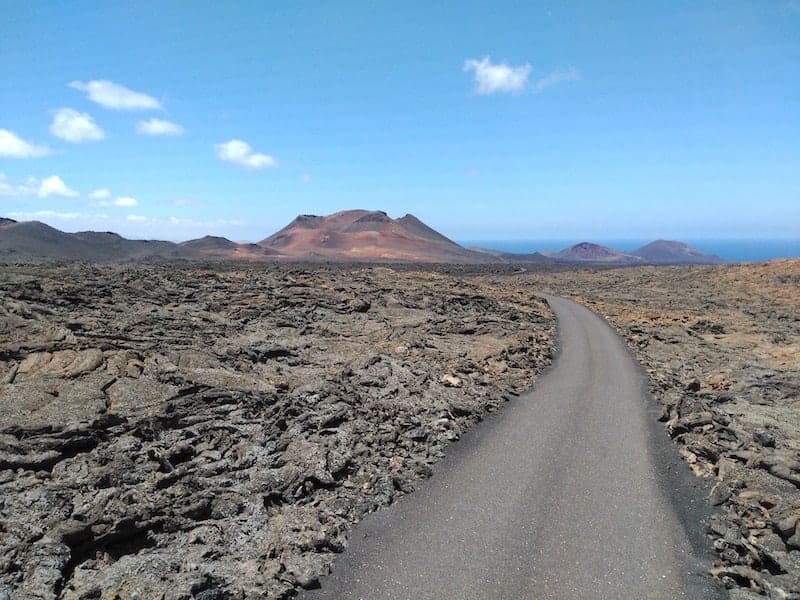 Upon witnessing Timanfaya National Park first-hand, you will understand why it is Lanzarote's biggest attraction and while more than 1,500,000 people visit it each year.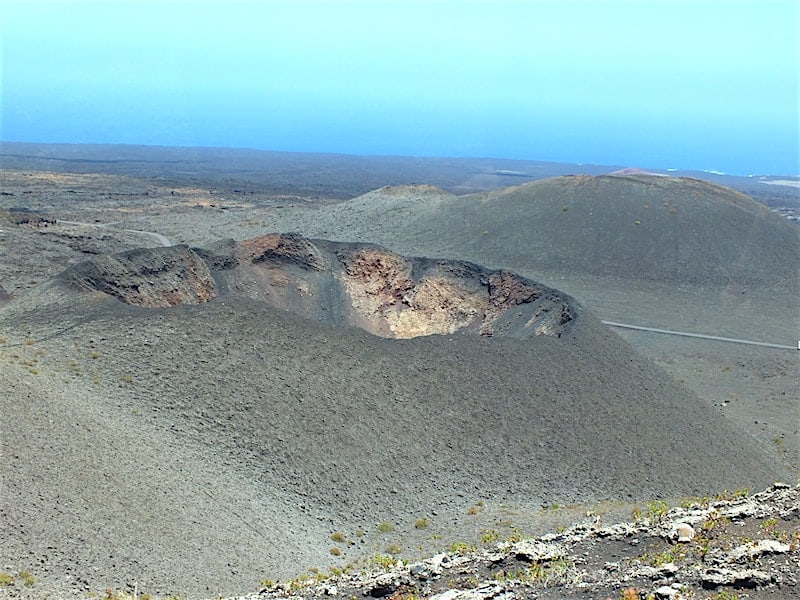 The park's 50 square kilometres are the result of recent volcanic processes, which resulted in a landscape without vegetation, formed by capricious rocks in a variety of colours (red, ocher, brown, black or orange in varied tones).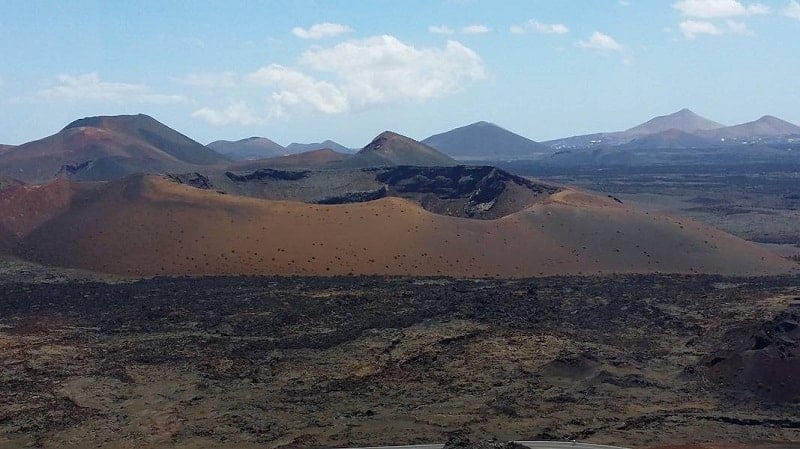 Although nearly two centuries have passed since the last eruption, the temperature surpasses 600 degrees just 13 metres below. So that you can see this for yourself, we will conduct three simple experiments in an area known as Islote de Hilario. First you will touch small hot stones that we will remove just centimetres from the surface.
econd, you will see how easily a small amount of tinder catches fire after being put in a hole one metre deep.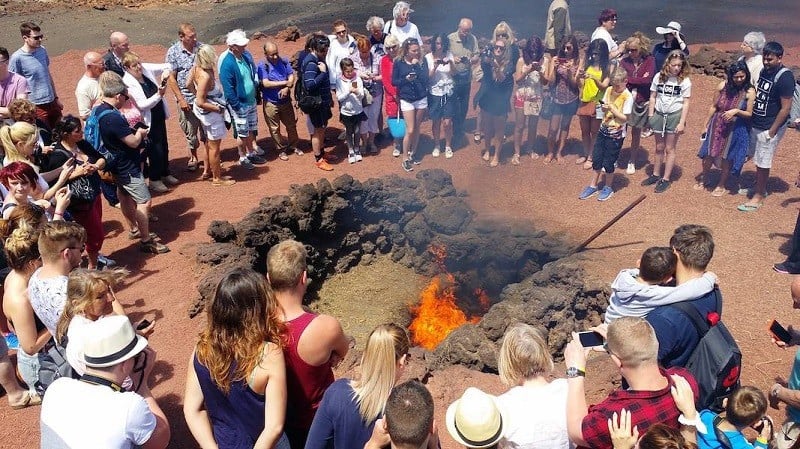 In the third experiment, we will pour water in tubes 10 metres deep, and you will see how that water ascends again in the form of an impressive geyser.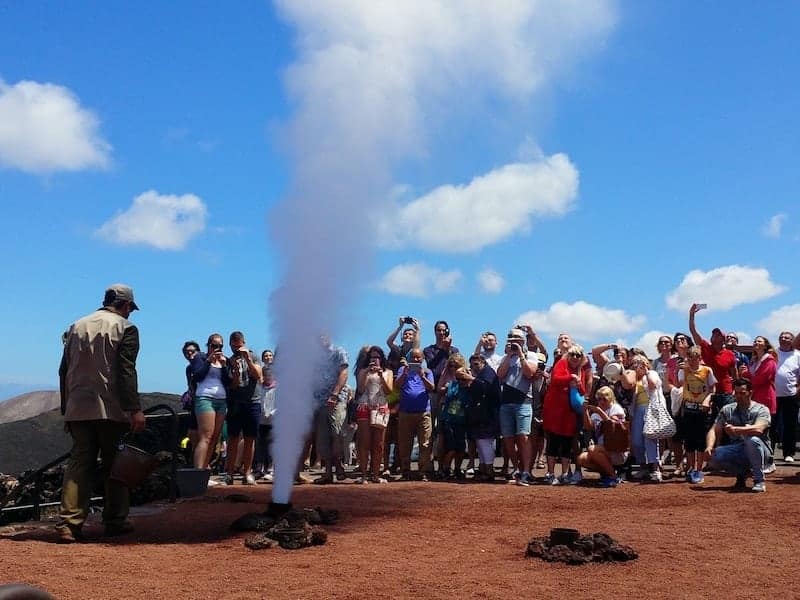 After all this, it will come as no surprise to learn that this place is known as the Mountains of Fire.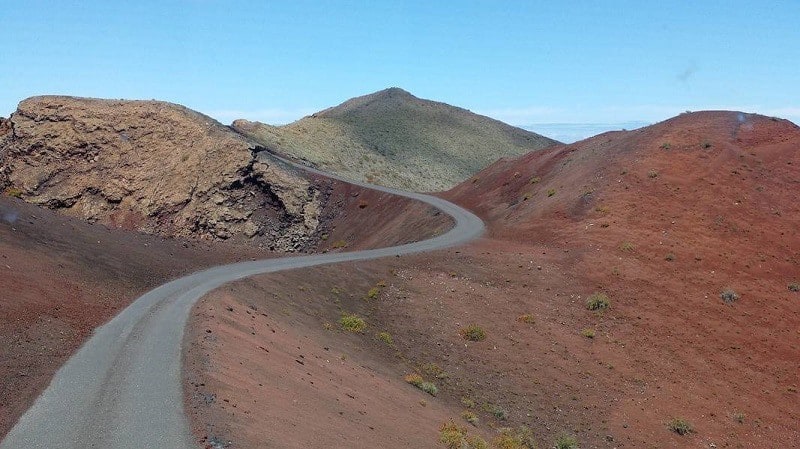 The same heat that is just a few metres below the surface is useful in places like the Restaurante Mirador del Diablo (Devil's Lookout Restaurant), where food is cooked in a barbecue located in a 7 metre deep hole, where the heat emanates from underground. Obviously, this is a genius invention that could only come from a mind like that of César Manrique, the most illustrious 20th century artist from the Canary Islands.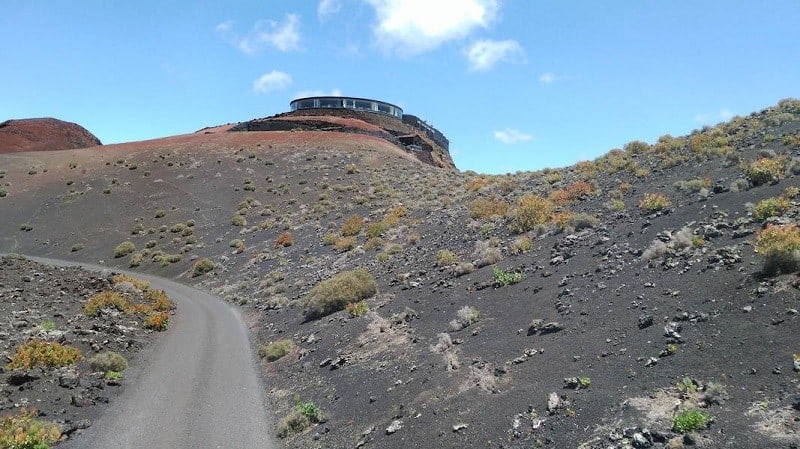 From Islote de Hilario, we will take a journey of 14 kilometres along the Volcano Road. On this route, which is only accessible by bus, we will enjoy the spectacular volcanic landscapes, full of craters, ash, mountains and different types of lava, for approximately one hour.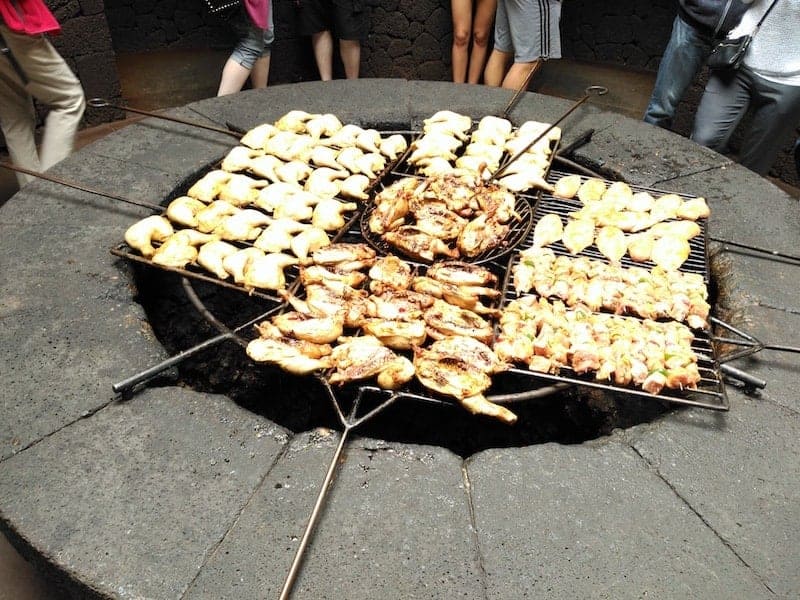 We will continue our excursion by heading toward the winery district of La Geria. In this territory, we will find volcanic, black and apparently sterile land that, nonetheless, is the best place to grow the vines that produce the grapes used in wine with the Lanzarote Designation of Origin. We will sample some of these wines in one of the area's bodegas after stopping at a restaurant to eat lunch.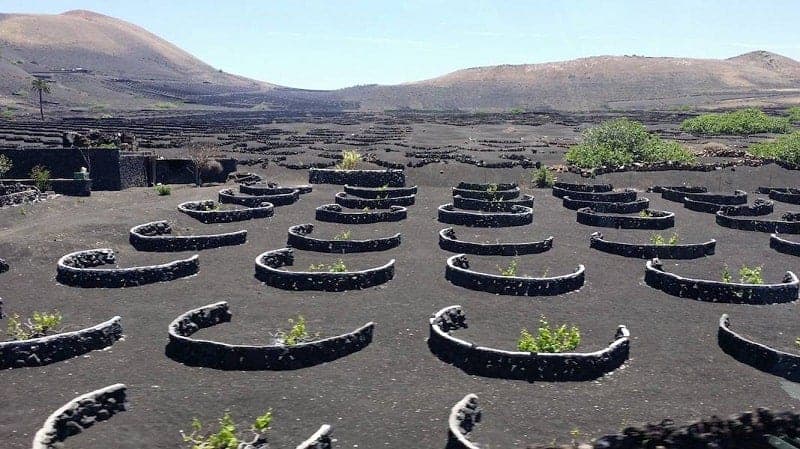 The food is not included in the price of the excursion, but you will be able to get a menu from the guide when it is offered to you on the bus.
Our next destination is the fishing town of El Golfo. There, in addition to seeing a town typical of the coastal regions of Lanzarote, we will also go admire the Laguna Verde (Green Lake), one of the symbols of the island.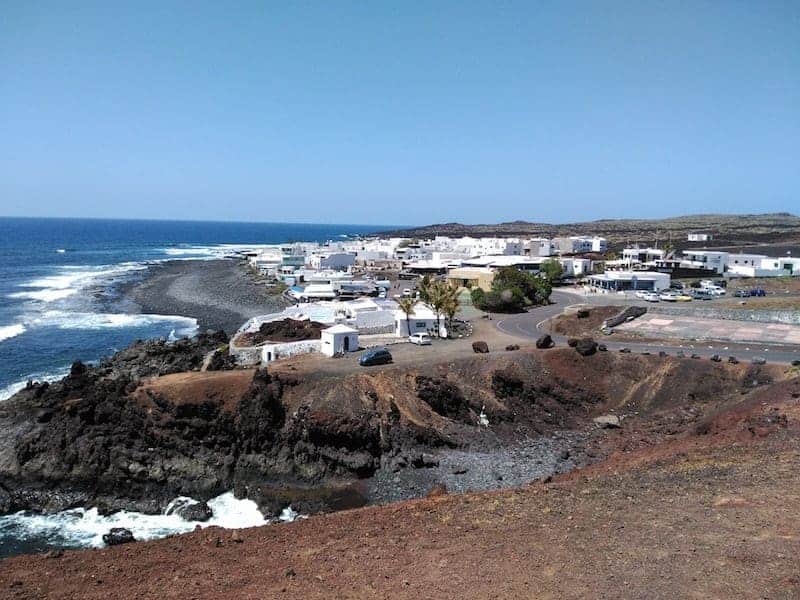 The lagoon, located in a volcanic area just a few meters from the sea shore, gets its intense green colour from a type of algae that grows within. From a lookout near Laguna Verde, we can contemplate the magnificent sight full of contrasts formed by the lake, the volcanic environment and the blue of the ocean just metres from each other.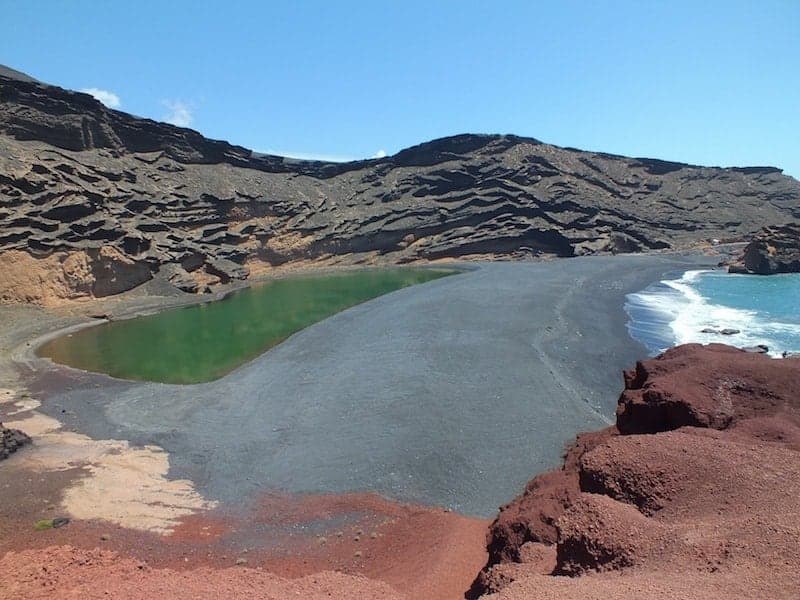 Our final stop will be a place known as the Hervideros. Discover an area of caves and cavities that opened up in the lava and are filled with filtered sea water. When there are strong waves, columns of salt water several metres high rise to the surface in this area.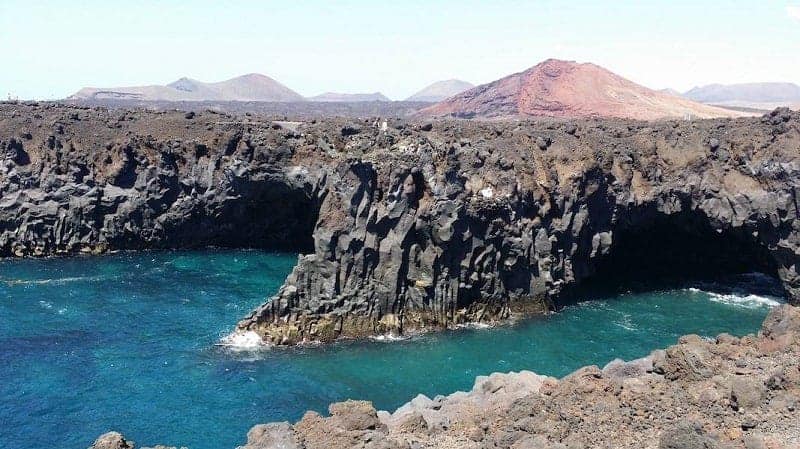 Very close by is the final landmark of our excursion through the southern zone of the island. From the bus we will observe the Salinas de Janubio, another natural space on the island that is protected for its important scenic value. In this place, nature and tradition are fused, since some complex hydraulic systems can be seen here, which have allowed salt to be extracted for years. This is vital for the local fishermen, who use it to preserve their catches.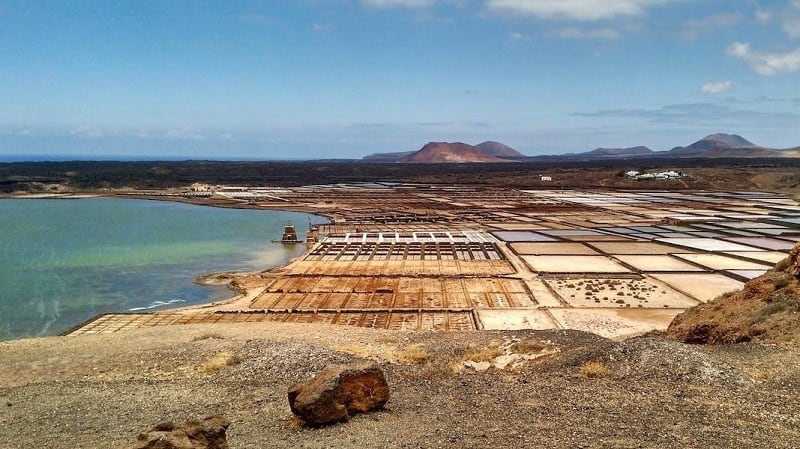 Upon completing the excursion, you'll feel as if the day has flown by while we were contemplating some of the grand gems of Lanzarote. No one gets tired of seeing this land, and we can even present the landmarks and stops in a different order, depending on the starting point and the location of your hotel. But now the time has come to return to your accommodations, and we will travel there in our bus.