Guided visits to discover Cueva de Los Verdes
La Cueva de los Verdes is located in northern Lanzarote in the municipality of Haria, and in summary it can be defined as a volcanic tube that formed after the eruptions of the nearby Corona Volcano. It's not known for sure when the eruption happened, but it is estimated to have occurred between 3,000 and 5,000 years ago.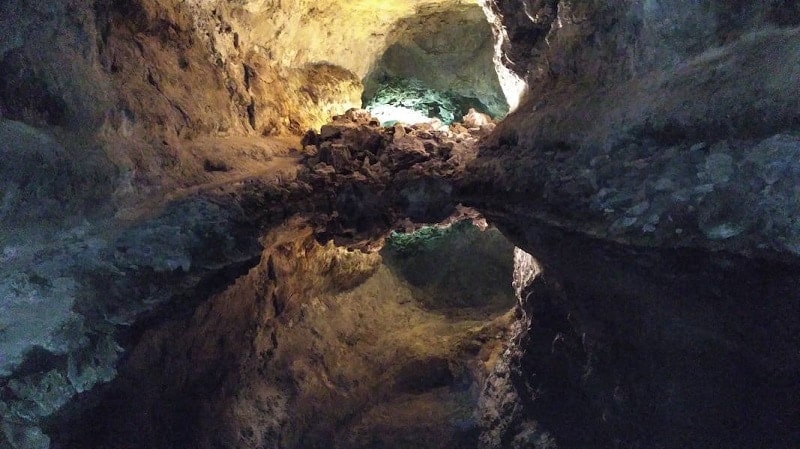 The result of that episode was the creation of this volcanic tube, which is 6 kilometres long and goes right to the ocean waters, and is even submerged in the sea in the so-called Tunnel of Atlantis. In short, inside this volcanic tube is La Cueva de los Verdes, as well as one of Lanzarote's other icons, the Jameos del Agua.
Touring La Cueva de los Verdes is a true adventure that brings tourists right inside the Earth. In total, a length of about one kilometre can be toured, taking you through underground galleries that are surprisingly connected to it, sometimes three stories high. While visiting its interior, it's understandable why the people of Lanzarote used to seek refuge in La Cueva de los Verdes whenever pirates decided to invade the island.
This labyrinth of caverns is truly fascinating, especially where it reaches heights of up to 50 metres and passages around 15 metres high. And throughout these passages, different geological and volcanic forms can be discovered, like the different layers of lava and a series of spectacular colours that cover a wide spectrum of reddish and ochre tones.
And everything can be visited at a constant temperature of around 19 degrees centigrade, which means it's advisable to wear a lightweight jacket for your visit. It's also important to wear appropriate close-toed shows, since it is a natural cave with rugged footing.
You might also be interested:
Timanfaya tours (read more)
Green Lagoon excursions