Excursions to Laguna Verde in Lanzarote
The Green Lagoon is located on the south-eastern coast of Lanzarote and is known both as Laguna Verde and Charco de los Clicos, as well as Laguna de El Golfo, due to its location next to the town of El Golfo, which is part of the Yaiza municipality.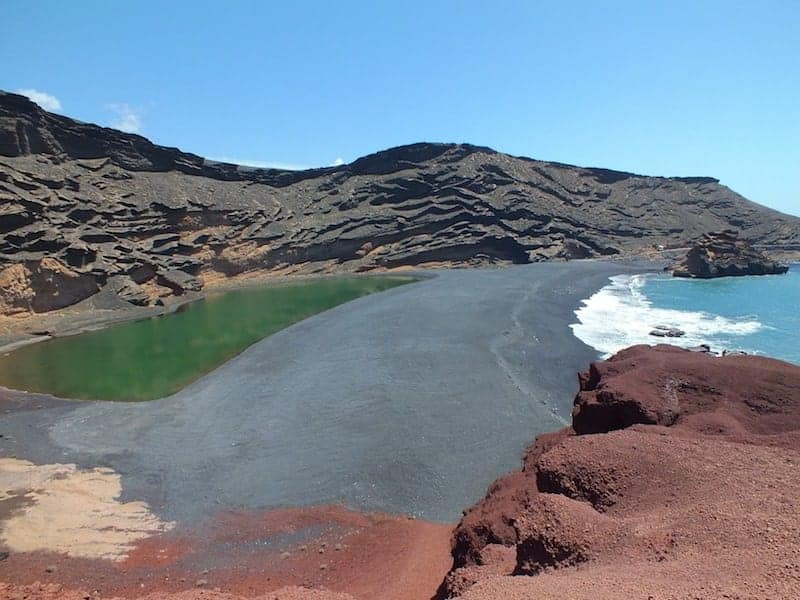 Like practically all of Lanzarote's tourist attractions, Laguna Verde can be seen in any  volcano tour. In this case it is right on the coast, and therefore the trip is complemented by a visit to the neighbouring El Golfo beach. In fact, if you'd like to swim, you'd have to do so at this beach and never in Charco de los Clicos, where it is strictly prohibited.
This prohibition is due to the natural value of the lake. Its origin was the crater of a volcano that erupted in the year 1730, and after that it remained sunken and full of water. It is surrounded by a cliff that acts like a natural amphitheatre where you can contemplate the ocean, beach and lagoon.
However, the water in the lagoon does not come in with tide. In reality, Laguna Verde is connected with the ocean via different underground conduits and cracks. This way, although it seems like it, the water is not stagnant, but rather renewed constantly.
That's why there is life inside the lake, basically a type of algae that give it its characteristic intense green colour, which greatly contrasts with the black colour of the surrounding beach. For the conservation of this rare habitat, it was named a Natural Reserve, and it's prohibited to even touch its waters.
It's all to preserve the presence of this type of algae, Ruppia marítima, and to guarantee that the semiprecious stones generated here continue to exist. These are called olivines, which the local artisans and jewellers use to make attractive souvenirs from Lanzarote.
Discover this and other places of interest in our Lanzarote excursions in OkLanzarote.