Top Things to Do in Playa Blanca in Lanzarote
Discover what to do in Playa Blanca during your holidays in Lanzarote. We propose several activities to do in Playa Blanca and its surroundings, as well as places to visit in Lanzarote and activities to enjoy your holidays alone or with your partner, family or friends.
Plans to do in Playa Blanca – sites to visit
1.- Marina Rubicon
Marina Rubicon is a luxurious marina with an almost 500 yacht capacity located between Playa Blanca and Papagayo beaches. In the marina you can go shopping in its various boutiques, taste Canarian and international gastronomy in its excellent restaurants or enjoy a pleasant walk among the docked yachts.
The ferries from which we do our Lanzarote to Fuerteventura tours leave from the Playa Blanca Port, not from Marina Rubicon.
2.- Castillo de las Coloradas (Coloradas Castle)
Also known as Águila Tower or San Marcial de Rubicon Castle, the Coloradas Castle is an old fortress used as protection from pirate attacks. Although it cannot be accessed, you can see some spectacular sunsets from this site.
3.- Promenade
The promenade is ideal for walking as it'll allow you to walk the 2 km that separates Playa Blanca from Marina Rubicon. Here we will find countless shops, terraces and restaurants where you can buy, eat or drink while watching the sea.
4.- Natural pools of Los Charcones
A few kilometers from the Playa Blanca tourist area there are a series of natural pools, between the Pechiguera lighthouse and the Salinas de Janubio, where we can bathe and enjoy a sunny day. Los Charcones is a great alternative to beaches and hotel pools as it is calmer and less noisy.
5.- Montaña Roja (Red Mountain)
La Montaña Roja is actually an inactive volcano located about 3 km from Playa Blanca. The volcano is 196 meters high, 350 meters in diameter and 50 meters deep. You can hike to the top and, from there, see some impressive views of the Playa Blanca coast and appreciate the nearby islands of Fuerteventura and Lobos.
Playa Blanca Beaches
6.- Playa Flamingo and Playa Dorada
Playa Flamingo and Playa Dorada are 2 small beaches located close to the urban center of Playa Blanca and which you can access by car or by walking along the promenade. Both beaches are small, with white sand, calm and protected from the waves. Playa Flamingo is located 2 km from the center of Playa Blanca and Playa Dorada is less than 1 km away, halfway between Playa Blanca and the Rubicon Marina.
7.- Playa Blanca
Playa Blanca Beach is an urban beach, the smallest of the beaches in the area as it is only 40 meters long. It is surrounded by numerous shops, restaurants and pubs, which makes it very lively both day and night.
8.- Papagayo Beaches
If you're looking for a larger beach in southern Lanzarote, the Papagayo beaches are your best option. These beaches, located less than 10 km from Playa Blanca, can be accessed by car as there's a large car park. Another option to get to know these beaches is to take a boat trip to Papagayo Beach, where the catamaran will anchor near the coast so that you can bathe in the sea and do other water activities.
Places to visit in Lanzarote from Playa Blanca
You can visit all the main attractions of the island in our organized volcano tours. These are the most emblematic places to visit in Lanzarote:
9.- Timanfaya National Park
Timanfaya is the greatest tourist attraction on the island and the best way to visit it is by taking an organized tour to the Timanfaya National Park to avoid the long queues you usually find to enter the park.
In the park you'll be able to see the island's treasured landscape, an area of more than 51 square km of volcanic surface that holds 25 volcanoes caused by the last volcanic eruption in Lanzarote in 1824.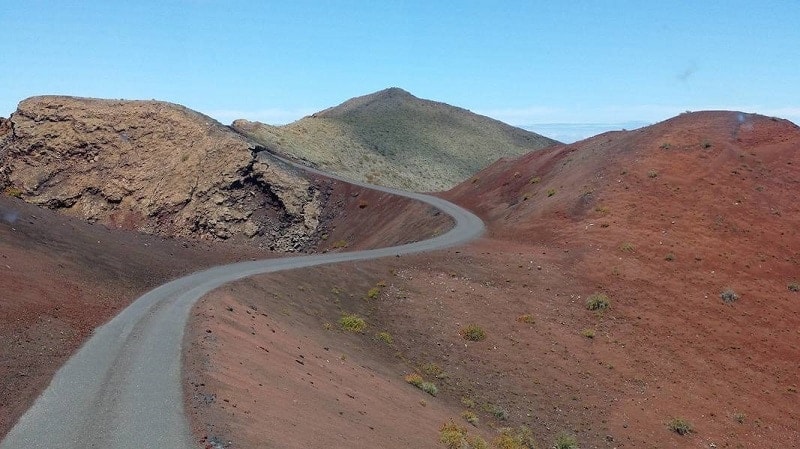 This volcanic activity is latent and in fact, through different experiments carried out in a place in the park known as the Islet of Hilario, you will see how, just 13 meters deep, the temperature reaches more than 600 degrees Celsius.
10.- Jameos del Agua
Los Jameos del Agua is the second most visited site on the island and you'll understand why when you visit it. As with Timanfaya, we recommend booking one of the tours to the Jameos to avoid the entry queues.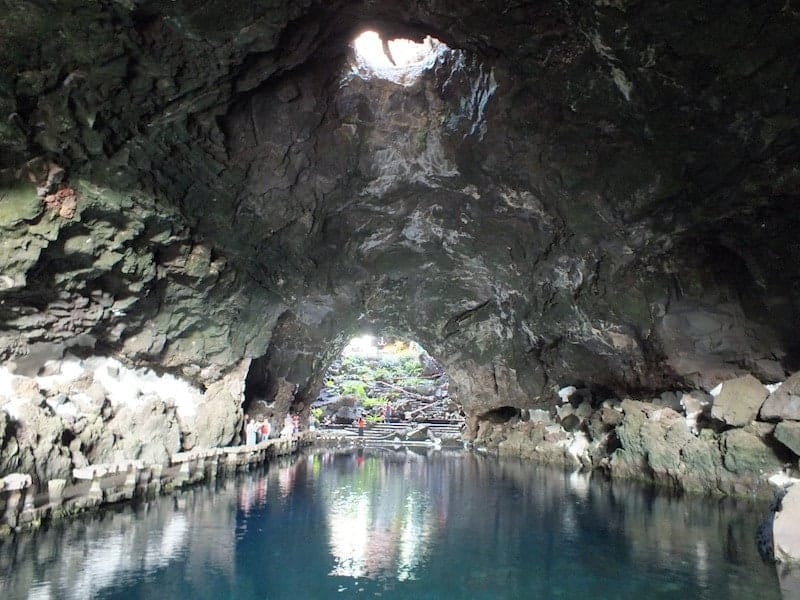 Los Jameos del Agua is actually part of a volcanic tube created by the Corona Volcano thousands of years ago in which the great Lanzarote artist Cesar Manrique managed to merge art and nature to create a magical space. Here you can find an indoor lake, an outdoor pool surrounded by a volcanic environment, a concert hall and some exhibition halls.
11.- Cueva de los Verdes (The Green Cave)
Lanzarote's third great attraction is the Green Cave. Like the Jameos del Agua, the cave is part of the volcanic tube created by the Corona Volcano.
The tour of the cave runs for approximately 1 kilometer. We'll visit galleries up to 50 meters high, located at different heights. Some of these cavities are used as concert halls due to their fantastic acoustics.
You cannot leave the Cave without discovering its great secret, a secret that you'll keep to yourself and won't be able to reveal to those who haven't visited it.
Keep in mind that the visit isn't suitable for people with reduced mobility or for people who suffer from claustrophobia.
12.- Charco de los Clicos (Green Lagoon)
Charco de los Clicos is another of the island's natural symbols. Located in the fishing village of El Golfo, this lagoon is also known as Green Lagoon or Green Lake due to the color of its waters. The contrast of the green of its waters, with the blue of the sea located a few meters from the lagoon and the gray and brown colors of the volcanic terrain where it's located, create one of the most beautiful views of Lanzarote.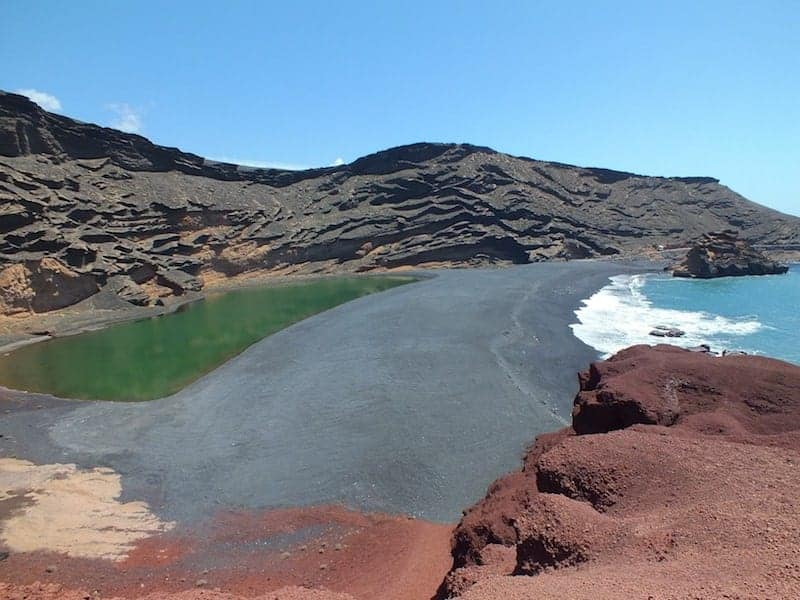 13.- Mirador del Rio (River Viewpoint)
Observe the nearby islands of the Chinijo Archipelago, and mainly the La Graciosa islands, from this viewpoint nestled in the Risco de Famara, located 474 meters above sea level.
As in almost every case when art and nature merge in Lanzarote to create a spectacular place, El Mirador del Rio is also one of Cesar Manrique's creations.
14.- Jardin de Cactus (Cactus Garden)
Located in Guiza, the Cactus Garden was the last great work of Cesar Manrique. Here you can find more than 4,500 cacti of species from all 5 continents in one beautiful space, full of decorative and sculptural elements.
15.- Lagomar
In the town of Nazaret you can find the Lagomar house, one of the most spectacular buildings on the island, and, naturally, also a creation by Cesar Manrique. The house is really a large mansion formed by numerous caves carved from a volcanic mountain's wall.
16.- La Geria
La Geria is the wine-growing region of Lanzarote, a volcanic area where the vines from which the grapes used to produce the wines with the Lanzarote denomination of origin are grown.
Seeing how vines are planted in volcanic soil is impressive, half buried between small stones and protected by larger stone walls.
17.- Los Hervideros
Los Hervideros is a formation of large volcanic rocks located on the southwest coast of Lanzarote for which, when there are strong waves, the water rises several meters as fountains or water jets through the cavities formed by the rocks.
Activities to do in Playa Blanca
You can practically do every activity in Lanzarote from Playa Blanca since almost all the companies that organize them have a pick-up service in Playa Blanca.
18.- Visit the Playa Blanca Market
On Wednesday and Saturday mornings, the Playa Blanca activity concentrates on its market, a place where you can buy, stroll and taste the local gastronomy. Handicraft products, souvenirs, leather goods, t-shirts or costume jewelry predominate the market's stalls and small shops.
19.- Camel riding
Camel riding in the Timanfaya National Park is, without a doubt, one of the most demanded activities by those who visit the island. You can do it alone, with your family, with your partner or with friends. You'll be able to enjoy this experience when you do any of our tours with a camel ride.
20.- Take a boat trip
Relaxation and fun are the essential elements of our boat trips in Lanzarote from Playa Blanca. The boat departures aren't done from the Playa Blanca docks, but the various boat tours offer pick-up points in Playa Blanca so that you can take the tour without worrying about getting there.
21.- Drive a jet ski
Among Lanzarote's water activities, the most enjoyable one is riding a jet ski, either by renting the jet ski or taking an organized tour along the coast. As in almost all activities that you can do in Lanzarote, good weather and mild sea temperature allow us to enjoy jet skis all year round.
22.- Do a hiking trail
Get to know some of the most beautiful and spectacular spots of Lanzarote, which can only be reached by foot, by doing one of the hiking routes proposed. Walk inside a crater, contemplate the wonderful volcanic views from the top of one of them, observe Famara Beach from the Risco de Famara and see the islands that make up the Chinijo Archipelago.
23.- Do a buggy tour
Discovering some of Lanzarote's hidden treasures while driving a buggy is an experience that you cannot miss on your trip to Lanzarote. To do this, we propose two alternatives: 1.- tours in a two-seater buggy that focuses more on fun as you'll drive on dirt roads and 2.- tours on asphalt roads in classic buggies where, in addition to enjoying driving the buggy, we offer cultural experiences throughout the island. Check out our buggy tours in Lanzarote proposal and choose the one you like the most.
24.- Kayaking along the coast
Kayak tours allow us to get to know the coast while we exercise. Be amazed by the beaches, cliffs or even coastal caves that we'll access during the tours. And don't worry about the demands of the routes since we have tours for beginners and kayak routes for experts.
24.- Explore the seabed
We propose several ways to get to know Lanzarote's underwater life. We'll reach the greatest depth in a submarine dive at more than 20 meters deep, discovering wrecks and observing the different fish species that we'll find during our trip from the submarine windows. We'll snorkel on the surface and then reach a few meters of depth. A diving course for beginners will allow us to have a first experience with scuba diving and, if we want, continue with more advanced training to be able to dive deeper.
26.- Visit nearby islands
You can visit several islands and islets from Lanzarote in a single day.
On the tour to Fuerteventura you will be able to visit the center and north of the island, including its main attraction, the Corralejo Dunes National Park, and some towns such as Pájara or Betancuria.
On the tours to La Graciosa you won't only get to know the capital, Caleta de Cebo. You'll also be able to spend a few hours on the beach doing water activities and exploring the coast in a catamaran.
On the tour to the Lobos islet, in addition to being able to spot dolphins during the trip, you'll have a few hours on the island to explore the island on foot and relax on any of its beaches.
27.- Take an organized tour
Discover Lanzarote through the different tours you can do in Playa Blanca in a single day. Get to know the most emblematic sites on the island on organized tours and with official guides, while avoiding the long entry lines to the island's Assets of Cultural Interest.